BHS

boys soccer defeats Maranatha on senior night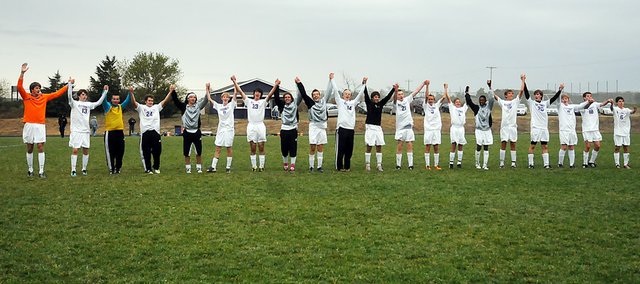 Nine Baldwin High School seniors ended their last regular season home soccer game with a shutout victory Monday.
The Bulldogs celebrated senior night in style with a 4-0 over Maranatha Academy. The BHS boys' soccer team improved to 11-3-1 with the victory.
"That was a very good team, but it was senior night and it was nice to get some early goals," coach Mark Joslyn said. "We had good possession. We just looked sharp and we've looked sharp the last four or five games. We held them scoreless, which was nice, too."
Monday's game marked the final regular season home game for the Bulldogs. It was a night where nine seniors were honored with their parents before the game. They were Clint Chapman, Kyle Hostetler, Ryan Hundley, Louis Joslyn, Cody Keener, Zac Leeker, Caleb Michels, Dustin Wallace and Nick Waltz.
Michels and L. Joslyn scored two of Baldwin's goals on Monday. Michels scored the opening game less than eight minutes into the contest. Joslyn sealed the win as he scored a goal with 27:55 remaining in the game, giving BHS a 4-0 lead.
Sophomores Duncan Murray and Nick Joslyn each added a goal during the first half of action Monday. Both shots were booted hard, bounced off the goalkeeper's hands and rolled into the net.
The Bulldogs will finish their regular season at De Soto today. The junior varsity team will play at 4:30 p.m. with the varsity starting at 6 p.m.