Maple Leaf Festival provides fall fun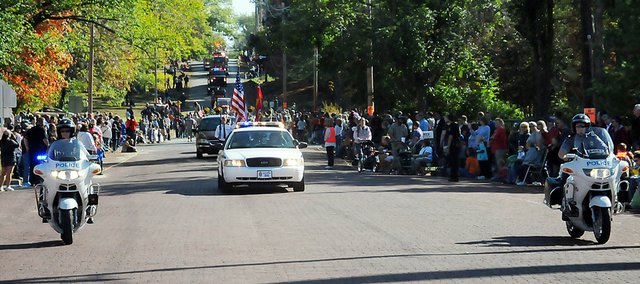 Hundreds of cars poured into Baldwin City on Saturday for the annual Maple Leaf Festival — a huge tradition in this small town.
The Maple Leaf Festival started in 1958, "inspired" by Baker University professor Ivan Boyd, who suggested the third weekend of October as the "optimum time to view the changing colors" of the area's leaves, according to the event's website. This year boasted more than 300 registered booths and unseasonably warm weather.
The big sun and big crowds were good news for Jenny Degenhardt, who spent the day selling pumpkins from her farm outside Topeka. It was the first time she participated in the festival, and she said the $300 or so she had made by about 2 p.m. was a great help to her business.
Ardie Grimes, a Baldwin City resident who's been coming to the festival for seven years, said that it's more than just entertainment for those who come to the weekend-long event; she said it's a really important event for the whole community, especially the local businesses that sell food and for the volunteer groups.
"It's a major fundraiser for the whole year for many community-based organizations," she said.
Kitty Glass, co-owner of Whispering Cedars Farm and Gardens, 657 E. 850 Road, has been selling mums at the festival for 13 years. In that time, the farmers, crafters and volunteers who work the festival become a part of the "close-knit community" present in Baldwin City, she said.
"We've become like a big family," she said of the vendors who participate in the festival. "It's not only a good (income) for us, but also a lot of fun."