First day of Maple Leaf winding down; Festival continues on Sunday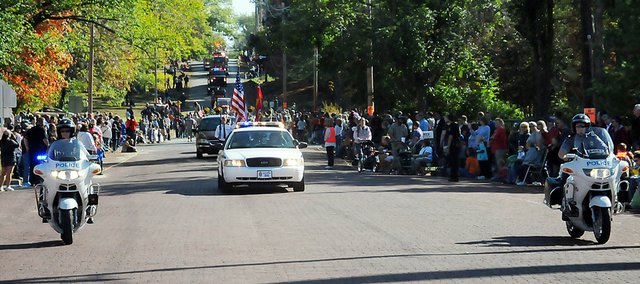 Photo Gallery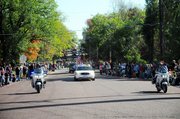 Maple Leaf Festival grand parade
The first day of the 2011 Maple Leaf Festival is about to wrap up, as the country music tent and carnival are still going tonight.
As expected, the first day drew thousand of visitors to Baldwin City for the 54th annual festival. Warm temperatures and sunny skies attracted a crowd that was estimated at near the record attendance.
The grand parade was the highlight of the morning as it lasted for nearly 90 minutes. The parade featured several local high school and middle school bands, along with car clubs, local groups and dozens of horses.
After the parade, the crowds headed toward the booths and food booths, especially. Lines for the food were long for hours after the parade, but visitors enjoyed the array of offerings at the festival.
Most of the crowd began dispersing after 5 p.m., but some stayed until vendors began closing up about 6 p.m. The country music tent and carnival have continued to be active during the night.
Much smaller crowds fill the streets on Sunday, as vendors begin opening at 9 a.m. Many Baldwin City residents advise visitors to come on Sunday during the early afternoon as the crowds are much smaller and food lines are shorter.
The country music tent, quilt show, kids zone and carnival will be running all day on Sunday, along with the hundreds of arts and crafts booths.