Baldwin opens district games with 28-6 win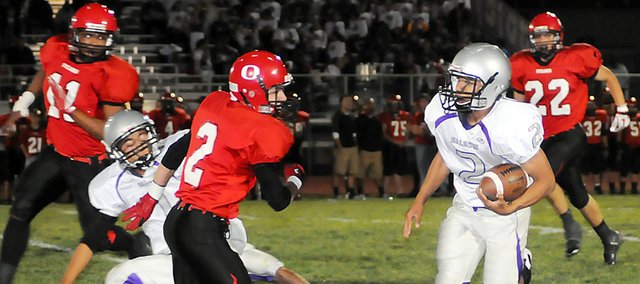 Photo Gallery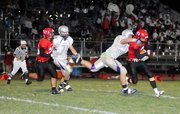 Baldwin High football at Ottawa
Baldwin High School's football team beat Ottawa 28-6. It was the Bulldogs' first district game of the 2011 season. They improved to 5-2 win the victory.
OTTAWA — Baldwin High School's football team scored all four touchdowns on the ground as it won its opening Class 4A district game over the Cyclones 28-6.
Baldwin (5-2) has won four-consecutive games, while Ottawa (1-6) has dropped its last four. Both teams will play Santa Fe Trail and Eudora for their final two district games.
"We told the team, '1-0 and plus-13,'" Baldwin coach Mike Berg said. "That's what we came here to do. It wasn't the prettiest game. Ottawa had a good game plan against us. We didn't execute very well, but our kids played well enough to win."
The Bulldogs locked up the victory with 6:39 remaining in the game. They responded to Ottawa's only touchdown with a 8-play, 76-yard drive that was capped off with a 26-yard touchdown run.
Early in the second half, Baldwin nearly put the game out of reach. Colton Stark recovered a fumble on the opening play of the second half. Baldwin scored three plays later on a Dayton Valentine one-yard touchdown run.
BHS also scored with 33 seconds remaining in the first half. Baldwin's first score came on its second possession of the game.
Next week, Baldwin will travel to Santa Fe Trail.
Score by quarter
B – 7 7 7 7 — 28
O — 0 0 0 6 — 6
Scoring summary
B — Chad Berg 39 run (Austin Kraus kick)
B — Tyler Cawley 2 run (Kraus kick)
B — Dayton Valentine 1 run (Kraus kick)
O — Evan Mietchen 10 yard reception fro Connor Goedert (Goedert pass failed)
B — Cornell Brown 26 run (Kraus kick)