More than 300 arts, crafts booths to fill Baldwin City streets for festival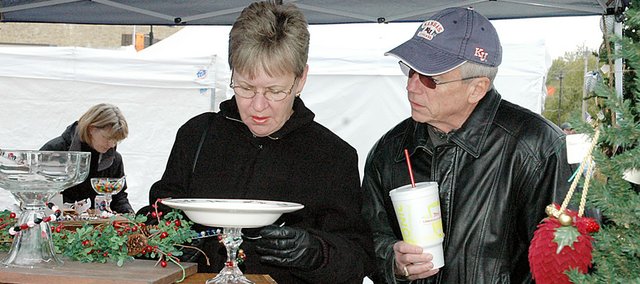 The heart of the Maple Leaf Festival is the large number of booths selling arts and crafts. For this year's festival, organizers have received commitments for 320 booths filled with about 300 total vendors.
"There's so many booths. There's wood-craft products, iron products, spices, nuts, tie-dyes, birdhouses, photography, hand-blown glass, jewelry, quilts, it goes on and on and on," said Donna Curran, who chairs the Maple Leaf Festival's Booth Committee.
Among the arts and crafts is longtime Maple Leaf vendor DC's Juntiques, from South Coffeyville, Okla. DC's Juntiques, which will be set up at Eighth and Indiana streets, sells iron products, including lawn and garden ornaments such as topiaries, arbors, metal baskets and planters, and animals such as turtles and snails.
Owner Donna Haddox has been coming to the festival for almost 10 years and says her sales have always done really well.
"I'd rank it in my top five for selling," Haddox said.
Haddox began coming to Baldwin City after a crafter friend recommended the Maple Leaf Festival to her. She said in turn, she has recommended the festival to a number of other crafters.
"I'm there to sell products and I usually do pretty good at selling them. They bring in a lot of people, and that's what counts in these craft festivals," Haddox said. "It's fairly close to home, and it's just a beautiful fall festival."
Curran said one craft booth new to the festival this year would offer hand-blown glass sculptures. The booth will be located in front of the fire department.
"We've never had him before. I think it's really neat," Curran said.
Along with the crafts, the festival will have about 18 different food booths. The variety of fare being offered promises to whet the appetite of even the most picky eaters.
"There's going to be deep-fried pickles this year, so that's kind of unique," Curran said.
The Baker University Spirit Squad will be selling the pickles in an effort to raise money to travel to a national competition.
Curran said Baldwin Rotary has a booth outside the fire department to sell pork kabobs, which is something that is new to the festival, too.
Other foods will include roasted corn, lemonade, pork burgers and a biscuits-and-gravy breakfast put on by the Baldwin City Knights of Columbus.
"The turkey legs and the funnel cakes are definitely (bestsellers)," Curran said. "The kettle corn (on Seventh Street) is a big hit too, but the turkey legs are almost always sold out every year," Curran said.