Maple Leaf Festival organizer forecasts big crowds, nice weather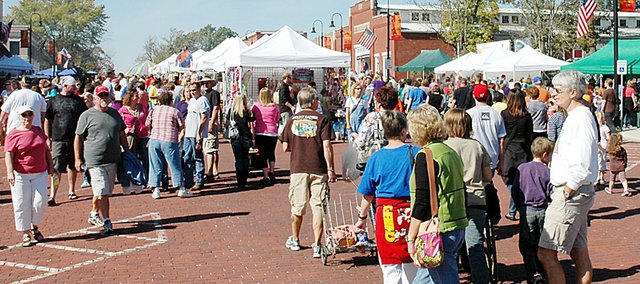 As the third weekend in October approaches, Joanna Vesecky and the rest of the Maple Leaf Festival Committee is scrambling to make sure every detail for the event is taken care of.
"A big, nice turnout and lots of smiles make the stress of the year worthwhile," said Vesecky, Maple Leaf Festival vice chair.
Last year, the festival drew record-breaking crowds to Baldwin City, and the committee is hoping for the same this year.
"Since it is supposed to be good weather for this weekend and the (Maple Leaf Quilt Show) is having its 40th year and with the Midland Railway running its train, I bet we're going to have a huge year," Vesecky said. "Anytime the weather is nice, we usually have a record-setting year and beat out the year before."
New to the festival this year is the addition of car show groups. Three groups will participate in the Maple Leaf Festival Parade and afterward will set up in different parts of town so guests will be able to view the cars up close.
Vesecky is hopeful the cars will prove popular with festival-goers. Viewing the cars, she notes, is an activity those at the festival can enjoy for free.
Crafts booths are always a staple of the Maple Leaf Festival, and this year the number of booths has grown to 320.
"We have more booths than we've had for quite some time. The booths are going all the way down Eighth Street, where typically they will end at, like, Eighth and Fremont (streets)," Vesecky said.
The Business and Professional Women's Foundation's craft show, which is part of the festival, will feature crafts, booths, music and food. It will be in the gymnasium on Chapel Street between Sixth and Eighth streets.
Vesecky said the main goal of Maple Leaf Festival is to draw a large crowd to Baldwin City for the weekend.
"We want our community to benefit from it because the money we raise for doing the booths, we turn that back into the community by giving scholarships or helping the fire department or helping the school purchase stuff," Vesecky said. "We hope for a good turnout, so in return we can turn around and help our community."
Along with booths and the parade, the festival will also host a variety of activities including a Kid's Zone with inflatables and a petting zoo, a full carnival, country music, history tours, and train rides at the Midland Railway.
This version corrects the relationship between the BPW Foundation's arts and crafts show with the festival