Grand Parade theme for 2011: 'Land of Maple Leaf'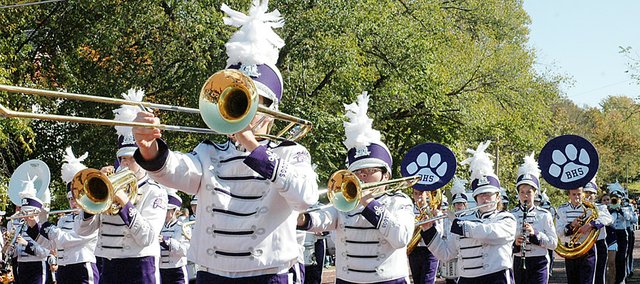 At 11 a.m. Saturday during the Maple Leaf Festival, be prepared to escape to another land, or at least feel like it. This year's Maple Leaf Festival Parade theme is the Land of the Maple Leaf, which was picked based on the idea of the Land of Oz from "The Wizard of Oz."
The parade will feature a number of floats decorated to fit the theme, as well as marching bands, cars, horses and other entries. In all, there are more than 90 entries in this year's parade.
Jeremy Rodrock, Maple Leaf Festival parade chair, said marching bands are usually a common component of the parade.
"We get a lot of bands and I think that really adds to the parade," Rodrock said.
Katie Wasser, Central Heights High School band director, is bringing the Central Heights Marching Band to participate in the parade for its second year.
Wasser said the parade was a good motivational tool for her students.
"It's a good experience for the kids to get out in the public eye," she said. "It's a good way for them to do more with band beyond the classroom."
During the parade the Central Heights students will play the school fight song as well as a cadence. Because the band participates in other parades, they know the songs well enough that they are able to play them easily.
"They can focus more on marching and tuning because they are so used to the songs," Wasser said.
This year, the parade will include not only marching bands, but a drumline as well, which is different from in previous years.
The parade runs from Third and High streets up to Sixth and Baker streets. It usually lasts about an hour.
Formation for the parade begins at 9 a.m. and the parade committee would like all parade participants to arrive no later than 10:30 a.m.
"If anyone wants to enter, people are more than welcome to show up with whatever they'd like; vehicles, tractors, motorcycles or antique cars. Even if they didn't enter the contest that's fine, we'll fit them right in," Rodrock said.
Despite the large number of participants in the parade, not all will be judged unless they entered the contest.
"If people choose to enter, we judge them before the start of the parade and then we announce when their float passes by the announcers' stand," Rodrock said.
Three community members will be selected by the Maple Leaf Festival Committee to act as judges during the parade.
Judging will be based on areas such as creativity and how well the float goes with the theme.