BHS

volleyball squad falls to De Soto, finished sixth at Spikefest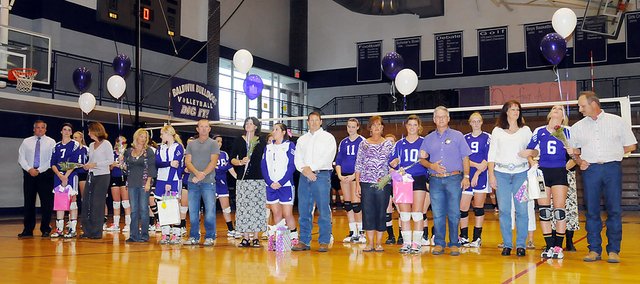 Baldwin High School's volleyball squad dropped a league contest against De Soto on Tuesday, after finishing sixth at the Wildcats' Spikefest Tournament on Saturday.
The Bulldogs dropped three straight sets to De Soto on their senior night. De Soto won 25-10, 25-20 and 25-14.
"The girls played hard tonight," coach Kelly Brown said. "We reached some blocking and defensive goals that we had set for the night. I'm pleased with how we played tonight."
On Saturday, the Bulldogs played at De Soto. They went 2-3 on the day and finished sixth out of 10 teams. They beat Jefferson West and avenged a previous loss this season to Spring Hill.
"We got a couple wins on Saturday," Brown said. "We played great against Spring Hill. We tried a new lineup and did some different things. The girls worked hard and stayed after it all day."
Baldwin lost to Central Heights in the final match of the day. A win would have placed BHS sixth.
BHS will play at 5 p.m. tonight at home. Baldwin will travel Saturday to Paola for the Frontier League tournament.