BHS

seniors become back-to-back state qualifiers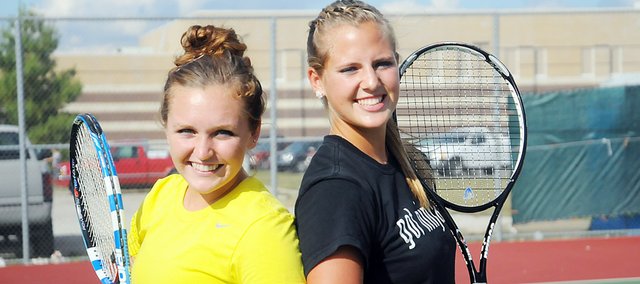 Baldwin High School seniors Kara Hoegerl and Hayley Schwartz will be returning to the Class 4A girls' tennis state tournament.
The BHS doubles team qualified for the second-straight year. They finished sixth at the regional tournament in De Soto. Last year, they placed fifth.
"I am so pumped," Schwartz said. "I've only played for four years and to make it to state for the second year is awesome. I can't even believe it, honestly. I thought we played well. I think I had one of my better tournaments of the year. Kara was solid throughout the tournament."
Hoegerl was also excited about the opportunity to return to the state tournament.
"It was fun to qualify for state again," Hoegerl said. "It's a great feeling."
Hoegerl and Schwartz entered the tournament as the No. 6 seed. They beat a Bonner Springs team 6-1, 6-3 in their opening match on Friday. In their second match, they faced the No. 3-seeded Topeka-Hayden duo, who went on to win the tournament.
Against Hayden, the Bulldogs fought tough during the opening set, but lost 7-5. They lost the second set 6-1 and fell into the consolation bracket on Saturday.
"I thought they played pretty well," coach Justin Hoffman said. "They played really well in their first set in the match they lost to Hayden. Then they stopped moving a bit in the second half. In their first match Saturday morning, I thought they played very well and very relaxed, especially considering the situation they were in. It's tough to be in that situation, but they played outstanding."
On Saturday, they faced the other Hayden team, but came out successful this round. Hoegerl and Schwartz won 6-1, 6-2, which automatically qualified them for state.
"There was a bit of pressure to win that match," Schwartz said. "Kara and I were in the same situation last year, so we had confidence that we could do it. We tried to stay calm throughout the match and focus on our shots. We ended up pulling it out."
In the final match of the day, they lost to a Spring Hill team in three sets. BHS won the first set 6-4, but lost the next two, 6-3, 6-4.
"I thought we played well, but our last match was the toughest, because we had already qualified," Hoegerl said. "We needed to keep playing well and it was hard to stay focused. It was a match we should have won, but we didn't play hard enough."
They will face a doubles team that finished regionals third at the state tournament this weekend in Pratt. Both seniors are excited and hope to improve on last year's finish of a 1-1 record at state.
"It will be tougher to win our first match, because we'll be playing a harder seed this year since we finished sixth," Hoegerl said. "We are hoping to win the first match and play on Saturday."
Four other Bulldogs competed at the regional tournament. Seniors Alison Berg and Alexis Finucane competed in the doubles bracket. They won their first match 6-1, 6-2, before falling to the No. 1-seeded team 6-2, 6-2. They lost on Saturday to the Spring Hill team who placed fifth.
"Ali and Alexis got in a tough draw," Hoffman said. "In looking at the different regions, ours was competitive and deep. There were eight teams that could have qualified and had a chance to win a match at state. They played all right, but had a tough draw, playing the No. 1 seed in the second round."
Senior Brooke Morgan and junior Kaitlin Jorgensen played singles for the Bulldogs. They both lost their opening matches of the tournament.
"Brooke had a hard time adjusting to the wind," Hoffman said. "She gave a great effort and the other girl was a backboard and drove her nuts. KJ was sick. She was only about 70 percent. She played hard, but you could just tell she didn't have her full game health wise."
"The singles bracket in our region was very tough," he said. "It would not surprise me if we had five medalists out of our region. The top 12 medal and that works out to three per region, but I wouldn't be surprised if our region medals five girls."