Baker University groups rely on festival for fundraising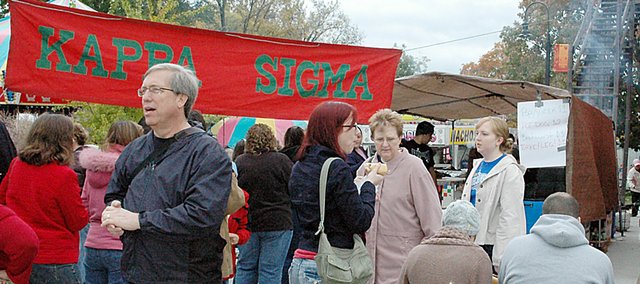 The Maple Leaf Festival is an important tradition to the Baldwin City community, but it also has special meaning for students, faculty and staff at Baker University.
The school takes tremendous pride in the festival because of the inspiration of Ivan Boyd, a biology professor at BU and a founding father of the Maple Leaf Festival, who noted the third weekend in October would be the best time for visitors to see Baldwin and its maple leaves.
Student organizations at Baker also use the festival as an opportunity to fundraise for themselves.
Sports teams, including the univesity's baseball team, softball team and spirit squad, will sell food items such as Italian sausages and hot dogs, Dippin' Dots and fried pickles.
Other Baker organizations will use the money they raise at their booths as donations for their respective philanthropies.
Zeta Tau Alpha Sorority's booth will benefit breast cancer education and awareness. Alpha Chi Omega sorority, which will be selling baked goods and bracelets, will use raised money to benefit the Willow Domestic Violence Center in Lawrence.
Some other organizations with booths include Kappa Sigma fraternity, which will be selling turkey legs, and Mungano, which will be selling traditional concession items such as water, hot chocolate, chips and candy.
"The money will help us pay for Big 12, which is a student government conference we go to every February," said Katerra Shackelford, Mungano president.
Baker University Farm Hands, a new student organization on campus, will have a booth at the Business and Professional Women's Foundation tent. There they will sell hand-cut local organic sweet potato fries to raise money for future Farm Hands projects, such as a student garden and farm.
The Baker University bookstore will be open and selling BU merchandise from 11 a.m. to 4 p.m. Saturday.
Aside from booths, Baker students will participate in the festival by taking part in the Maple Leaf Festival Parade. Baker University President Pat Long, as well as her husband, Dennis, will ride along with Baker Trustee Don Parker in Parker's 1966 Mustang. WOWzer the Wildcat will also make an appearance in the parade, along with the Baker University cheerleading team and marching band.
Baker's Quayle Bible Collection, which was recently highlighted in National Geographic magazine, will be open to visitors too. The collection will be open from 10 a.m. to 5 p.m. Saturday and Sunday.