Baker University's largest gift will help expand, renovate math and science building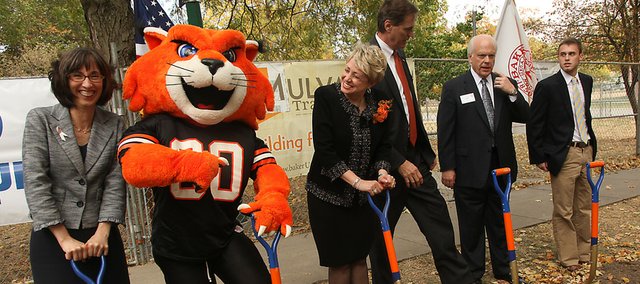 Members of the Baker University community celebrated a renovation and expansion project of the university's science and mathematics building, which will be supported by the largest gift in the university's history, President Pat Long announced at a ground-breaking ceremony Friday.
"It's a great day for Baker University," she said, and thanked the people who had a hand in the project through the years.
She announced at the event an anonymous couple donated $3.5 million in support of the $10.3 million project, which will feature a complete renovation of the hall and a 9,000-square-foot addition.
"They have requested that their name not be used and that they not get credit," Long said.
The renovation to the existing Mulvane Hall is scheduled to be completed by June, and the addition should be ready by the end of 2012.
At the request of the anonymous donors, the complex will be named the Ivan L. Boyd Center for Collaborative Science Education. Boyd was a faculty member from 1941 to 1972. He had generations of his family attend school and work at Baker University after his service on the faculty.
"Dr. Boyd was an institution here," Long said.
Fundraising will continue through July 2012. University leaders said they had raised about 80 percent of the funds necessary to complete the work, which was also supported by a $750,000 grant from the J.E. and L.E. Mabee Foundation.
Faculty members had been working for years with trustees and other university leaders to make sure the project met their needs.
Darcy Russell, a Baker professor of biology, said she had worked for years as the "project shepherd," working with architects and trustees alike to help shape the building.
The renovated hall space will focus on laboratories — faculty offices will move to the addition, and many typical classes will be held elsewhere on campus, Russell said. The building, in addition to traditional lab space, will feature smaller labs for students to work in groups of three or four on individual research projects with faculty members.
Science majors need to be able to do science, not just hear about it, Russell said.
"We can't send students to the Stowers Institute or KU Medical Center if they haven't actually done science," Russell said.
Students Becky Davis, Maggie Holmberg and Ashley Simpson attended the ground breaking. They had taken courses in the building, and agreed it would benefit from the renovations.
Davis, a senior from Lawrence studying exercise science, took classes in Mulvane Hall each year she was on campus. She said if the crowded space could be alleviated, and new technology added to the labs, it would be a good fit.
"It's a nice facility," she said, "but I think it could definitely use an expansion."