Bulldogs' gamble pays off;
BHS

beats Louisburg 34-33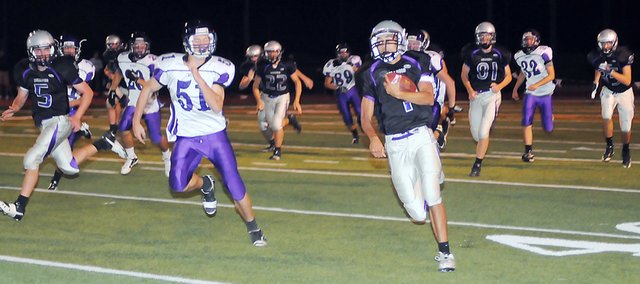 Photo Gallery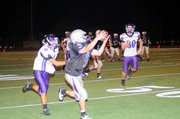 Baldwin High football vs. Louisburg
Baldwin High School won its third game in a row in 2011 with a home victory over Louisburg, who had previously beaten the Bulldogs four of the last six times. BHS won 34-33 after scoring a touchdown with 23 seconds remaining in the contest and converting a two-point conversion.
Mike Berg trusted his Baldwin High team to make one final play for the win when he opted to try a two-point conversion instead of kicking the extra point Friday.
Berg's gamble paid off as his Bulldogs beat a Frontier League foe that defeated the Bulldogs four of the last six games. They beat Louisburg 34-33.
"I was going to kick the ball," Berg said. "I changed my mind when they called a timeout. We talked as a coaching staff and decided to go for the win. We had the momentum and didn't want their offense back on the field. Our kids were fired up in the huddle."
Baldwin's Cornell Brown scored a touchdown with 23 seconds left in the game. The score put Baldwin within one point with in Louisburg. Berg sent his extra-point squad on the field, but Louisburg coaches called a timeout.
After the timeout, Baldwin came back on the field with its offense. After another Louisburg timeout, Baldwin's Chad Berg converted the two-point conversion to give BHS a 34-33 lead.
Louisburg's Garrett Griffin threw a hail mary on the game's final play and it was caught at Baldwin's 4 yard line. The Wildcats' player was tackled at immediately and BHS won the game.
"We're on a three-game winning streak," coach Berg said. "I couldn't be happier to win this one at home against the defending state champions. I would say Garrett Griffin is the best player in the state. They ran all over us, but our kids never gave up and we got a big win tonight."
Baldwin will begin its Class 4A district schedule Friday at Ottawa.
Score by quarter
L – 7 13 7 6 - 33
B – 6 12 8 8 – 34
Scoring summary
L — Garrett Griffin 38 run (Jason Danciak kick)
B — Cornell Brown 22 run (Austin Kraus kick missed)
L — Luke Hupp 5 run (Danciak kick)
L — Blaise Staver 41 run (Danciak kick missed)
B — Brown 14 run (Kraus kick blocked)
B — Chad Berg 62 reception from Tyler Cawley (Cawley pass failed)
B — Dayton Valentine 1 run (Berg run good)
L — Griffin 79 run (Danciak kick)
L — Griffin 1 run (Danciak kick blocked)
B — Brown 13 reception from Berg (Berg run good)