Winning streak ends;
BHS

recovers with 2-0 victory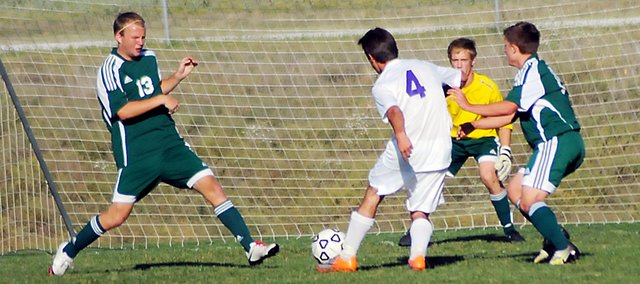 After five-straight victories, the Baldwin High School boys' soccer team lost Monday afternoon, but got back on the winning track Tuesday.
Six days after a big Frontier League win over rival Spring Hill, the Bulldogs were back at home for three games this week. They split the opening two contests and the final one will be played today.
Baldwin fell victim to Basehor-Linwood on Monday, 2-0. The loss ended Baldwin's five-game winning streak.
"They split our defense early and then a strange one in the box for the second goal," coach Mark Joslyn said. "I just told the kids to forget about that game and move on. Those things happen. We have too many games ahead of us to dwell on it."
The Bobcats led 1-0 at halftime after scoring an early goal. Baldwin took several shots in both halves, but couldn't get on into the net. The Bobcats' second goal bounced in the box twice before it was kicked it with 15 minutes left in the contest.
"We just weren't awake," junior Austin Kraus said. "We to have to be awake and ready to play every game."
The Bulldogs might have been feeling the effect of the loss during the first half of Tuesday's game. They played a scoreless half against Perry-Lecompton.
"It was a really tough loss yesterday," Joslyn said. "I wasn't sure how they would respond and I think it might have carried over a bit into the first half. We pinned them down and had lots and lots of shots, but we couldn't get anything into the net."
Baldwin connected on two shots in the second half. Senior Caleb Michels scored the first goal a few minute into the second half.
"Caleb hit our first one and that really helped out tremendously," Joslyn said. "Finally after shooting for two games, we got one in. I think that relieved all of the pressure."
Sophomore Nick Joslyn added the second later in the half to give BHS a 2-0 lead. That's all it needed as the Bulldogs beat the Kaws 2-0.
"It was good to get a win after Monday's loss," Joslyn said. "We have another game this week, so this win was helpful. We got to pass more today and think about shooting, as opposed to just shooting. On Monday, we were shooting too quick, but today we got into a rhythm and slowed the game down a bit."
Kraus was proud of his teammates for winning Tuesday's game after a tough loss on Monday.
"It was really nice to bounce back and get the win today," Kraus said. "Those kind of games happen and you just have to push through it. We got the 2-0 win today, which was nice."
Baldwin will play host to Eudora at 4 p.m. today. On Tuesday, BHS will travel to Louisburg.
"If we take our seasons in fourths, we'll be on our last fourth after Thursday," Joslyn said. "I'd like to try a couple new things and hopefully peak around regionals."