Facebook page reconnects current, former Baldwin City residents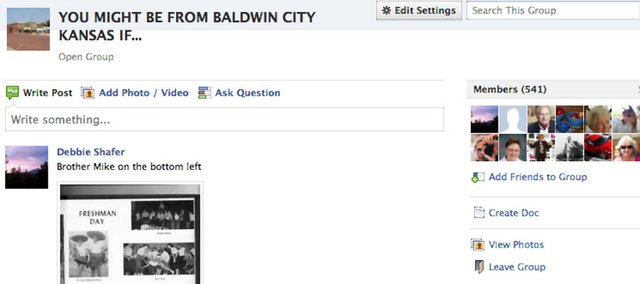 Past and present Baldwin City residents are using Facebook as a way to reconnect and reminisce with neighbors, classmates and friends.
The Facebook group "You might be from Baldwin City Kansas if…" was started by Ila Russell about six weeks ago, and quickly gain more than 500 members.
"I had seen one similar for the city of Lawrence, and I thought it was cool so I thought, 'I'll just start one for 'you might be from Baldwin,'" Russell said.
Russell thought the page would be a good way for people to find friends they've lost track of and for people who have moved away to see what Baldwin City was like now and remember how it was in the past.
"It is just a matter of remembering old times and a lot of the good stuff that happened growing up and even later," group member Dave Michael said.
Michael moved to Baldwin City in 1955 when he was a 7-year-old and has lived in or around Baldwin City since.
"There have been a number of things I have learned (from posts on the page). Some of them I may not have been aware of and others were in the back of my mind and it gets refreshed," Michael said.
Michael is on the Facebook page two or three times a day and posts usually about once or twice a day.
"(I posted) quite a bit the first few days that I was on it. (The group) is just really addictive because there were so many people I'd known from my past. It is hard to stay away from it for several days," Michael said.
Russell gets on the page once every other day and is pleased with the number of members and posts she has acquired on the page.
"One memory will spark another memory and then another story about something that might've happened," Russell said. "It really expanded really quickly."
Susan Baker said when she was office manager of the Chamber of Commerce she used the group to find out information about the past lifestyles of Baldwin City residents as well as information about the Chamber of Commerce building. According to some posts on the page, the building had previously been home to two different diners, which is something Baker had been unaware of.
"I'm getting to learn a lot more. This information isn't posted anywhere else, so I've been able to fill in a lot of gaps about what went on here," Baker said. "I've been here for 19 years but there is still a lot I wasn't aware of."
Many of the posts on the page discuss how previous residents haven't returned to Baldwin City in a long time.
"I hope it will encourage people to come back and visit, and I think it is great to rekindle that interest in coming back and visiting," Baker said.
The page is also a unique way for people to learn about the town and ask questions about any building or past event they may want to know more about. Although not every story can be taken for fact, members of the page correct each other and help one another to find the answer if they have the resources to.
"(The group page) could really be a significant record of the history in the town," Michael said.
The most important element for Russell and Michael was talking to old classmates, neighbors and friends and rekindling relationships that had been lost.
"I think things like this go beyond uniting people online. They connect or reconnect and a lot of us end up taking it offline and meeting face to face," Michael said.