Bulldogs regain 'swag' after Dig Pink Night win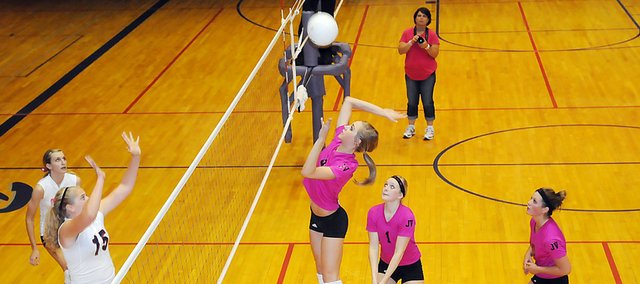 Baldwin High School volleyball coach Kelly Brown should consider having her team wear pink jerseys every match after Tuesday's performance.
Her Bulldogs sported the pink jerseys on their annual Breast Cancer fundraiser night. Despite mixed emotions before the match, the Bulldogs earned their first Frontier League win of the season.
"I think the jerseys definitely helped motivate them tonight," Brown said.
Senior Kaysha Green joked that maybe the Bulldogs wear pink the rest of the season.
"Maybe we should," Green said. "We had the fire tonight and I loved it."
Emotions ran high in the Baldwin Junior High School gymnasium Tuesday evening. On top of being Dig Pink Night, the Bulldogs' jerseys were paid for through the Jeff Valentine Memorial Foundation.
Valentine is the late husband of assistant coach Marilee Valentine and freshman Corey Valentine. His initials are printed on the jerseys and the football jerseys as junior Dayton Valentine plays on the football squad.
"This was a huge win," Brown said. "It was a big win, not just for the program, but for the Valentine family. This really hit home. The girls had a bigger purpose for working hard out here tonight and it showed."
The Valentines were overcome with emotion after the victory Tuesday.
"The night did carry a lot of emotion, but for me I didn't realize how much until we finally won," M. Valentine said. "I thought, 'Thank you, God,' then 'Thanks, Jeff.' Then the emotion hit me. The game meant a lot to Corey, so it was very exciting when she had the two big defensive plays right at the end of the match. She wasn't going to let the ball hit the floor so that was pretty exciting for me. This is an extraordinary group of girls, so it means so much to our family to share with our volleyball family."
On top of all that, there was even more inspiration for the Bulldogs to win Tuesday. They were playing their rivals ― Eudora.
"We always get fired up for Eudora and it's always a tough match," Brown said. "The fact that we came out on top on the Dig Pink night was icing on the cake for us."
Baldwin beat Eudora in five sets (17-25, 25-14, 25-22, 17-25, 15-9).
"It feels amazing," Green said. "We've been hungry for a win for so long and this is our first league night win. Plus it's Dig Pink, so it's extra special. We had tons of support and they all work pink. We're doing it for a good cause, so it's a great feeling."
Green led the Bulldogs to victory in the fifth set. With the score tied 4-4, Green served five consecutive aces. The fourth ace appeared to be headed out of bounds, but landed inches from the sideline.
"I was feeling it," Green said. "I was having some fun back there. I don't know what happened, but it was awesome."
The Bulldogs' coach was proud of Green.
"I love that kid," Brown said. "Kaysha is a great kid to have in the program. She works so hard. She is one of the only kids that doesn't really come off the court for us during the match. We expect a lot from her and she played great. She brought everybody together in that last game with those aces, which was huge."
Baldwin was unable to close out the match in the fourth set as Eudora took control and won 25-17. BHS bounced back after a tough first set and won the next two to take a 2-1 lead.
"We came alive in game two," Brown said. "You could see it at the end of game one. We were getting our swag back as the girls like to say. We definitely got our swag back and they came out to win."
The Bulldogs began the match slowly. Eudora led 10-0 and 13-1 before Baldwin began to rally, but it was too late.
"We surprised ourselves," Brown said. "We were very emotionally driven all week about getting this done the right way that once they got on the court, they had a hard time regaining focus."
The Bulldogs are hoping Tuesday's win gives them confidence for the rest of the season.
"I think we got our swag back," Green said. "I hope it stays and we carry it on to the rest of the season."
Baldwin will play a triangular at Topeka-Seaman today and at the De Soto Spikefest on Saturday. On Tuesday, BHS will host De Soto for a league contest.