BHS

football beats St. James 35-21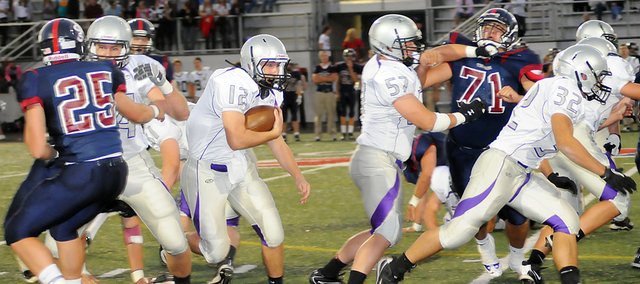 ROELAND PARK ― Each time Saint James' football team scored a touchdown Friday night, the Baldwin High School answered with one of their own.
The Thunder scored a trio of touchdowns against the Bulldogs. Each one was answered by the Bulldogs on their next possession.
After 35 combined points in the second half, Baldwin (3-2) beat the Thunder (3-2) 35-21.
"It's a huge win against a great team," coach Mike Berg said. "They knocked off Louisburg and Eudora early in the season. They run a scary offense and can score at any moment. I'm proud of our guys. We fought the whole game."
The Bulldogs were happy to win their second game in a row and beat a team that defeated two Frontier League schools.
"This was a big win," junior Dayton Valentine said. "This gets us over .500. It's exciting. They came in 3-1 and beat a couple of our league schools. It feels good to get the win tonight."
The Bulldogs' offense needed to come alive in the fourth quarter when St. James scored a pair of touchdowns in less than one minute. St. James converted a third-down attempt for a touchdown on the first play of the fourth quarter. Matt Eckleman caught a 9-yard pass from Alex King for the score.
Two plays later, BHS sophomore Chad Berg cut through the Thunder defense and broke free for an 80-yard run.
"It was a called pass play," coach Berg said. "Nobody was open and Chad knows he has the green light to take off. He had some great blocking and he made a great play. Our o-line was phenomenal tonight. We had guys playing both ways – offense and defense – and they're playing the whole game."
St. James' Bryan Eisman took the ensuing kickoff back 92 yards for a touchdown. With 10:49 remaining in the game, Baldwin led 28-21.
A final BHS touchdown by Berg with 3:00 remaining in the game all but sealed the deal. An interception by Baldwin's Will Simmons did seal the victory.
"Our offense got back on the field and milked the clock," Berg said. "We got our running game going again. I'm so proud of the kids. There's a lot of fight in this group."
Valentine scored twice to help the Bulldogs build a 21-7 lead early in the third quarter. Sophomore Cornell Brown scored on a long touchdown for the second straight week. He caught a pass from Tyler Cawley and sprinted to the end zone on a 67-yard play.
"It was really fun playing fullback," Valentine said. "I think those were my first rushing touchdowns since third grade flag football. It was exciting."
Coach Berg was proud of his team's defensive effort on Friday.
"I thought we played a great defensive game tonight," Berg said. "We made them earn everything they got tonight. Number 81 is a great receiver and I knew he was going to catch one sooner or later. He made a great catch in the end zone."
He was also happy to win at Bishop Miege's stadium, which is where St. James hosted the game. Last time BHS played there was the 2009 playoffs and the Bulldogs lost 62-0 to Bishop Miege.
"The last time we were didn't go well, but the time before that did," Berg said. "The Bulldogs are 2-1 here. We're above .500 on this field and this season, so we're happy about that."
Baldwin will be back at home next week to face Louisburg, while the Thunder will play Paola.
"Every game in the Frontier League is a big game," Berg said. "They were state champs last year and they have a great running back in Garrett Griffin. We will practice hard all week and get ready for another great time on Friday."