Baldwin High runners drop times at second home meet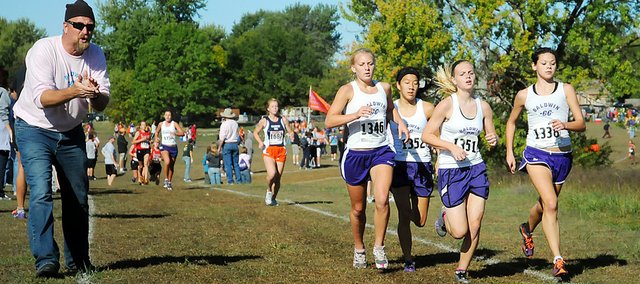 For the third consecutive Saturday, the Baldwin High School cross country teams competed against some of the best Class 5A and 6A teams from the state.
For the third week, the Bulldogs ran well and recorded fast times. The last race was also their second home meet in a two-week span. They also ran at home on Sept. 16.
"There were 12 teams and it was kind of a mix of 4A, 5A and 6A schools," Spielman said. "It was some great competition. The boys race had last year's 4A, 5A and 6A state champs in it. The girls race had a few of the top three teams in each class.
"I thought we stepped up and ran better this week," he said. "It's getting to that point where it feels like we are starting to run a little better each week. We're making some nice progress."
Baldwin hosted the Community America Bank Invitational on Saturday. The BHS girls finished third with 64 points as a team behind Shawnee Mission Northwest (30 points) and Lansing (45). SMNW is ranked No. 1in 6A, Lansing in No. 4 in 5A and Baldwin is No. 1 in 4A.
"They didn't beat us by much," Spielman said. "The girls got out a lot quicker this week and consequently we ran a lot better times."
Sophomore Katie Jones led the Bulldogs with a fifth-place finish. She finished the 4-kilometer course in a time of 15:19.72. Senior Carol Whaley place 11th in 15:42.06.
The Bulldogs next nine runners were close together. The difference from the third runner to the 11th runner was 17 places. They were senior Abi Hartzell (17), junior Kaitlyn Barnes (18), junior Sienna Durr (21), sophomore Hannah Hutton (24), junior Elena Watson (25), senior Elizabeth Sigvaldson (27), sophomore Libby Verhaeghe (30), sophomore Ashton Temple (31) and junior Glenn Kelley McCabe.
"Most of the girls ran faster than they did from the first home meet," Spielman said. "Some of them dropped quite a bit of time from two weeks ago."
The top seven runners will make up the varsity team that competes at the regional and state meets later this month.
"There are no more separate JV races," Spielman said. "They all run together so everybody is going to get their chance to fight for the varsity spots."
On the boys' side, Baldwin finished fourth as a team with 105 points. Finishing ahead of the Bulldogs was Bishop Carroll (30), SMNW (50) and Shawnee Mission North (80).
Baldwin is ranked No. 3 in 4A. Bishop Carroll in No. 1 in 5A and SMNW is No. 2 in 6A.
Sophomore Ethan Hartzell and senior Brian Wright finished sixth and seventh in the race. They finished the 5-kilometer course in times of 16:18 and 16:21.
Senior Tosh Mihesuah (15), sophomore Tucker Clark (45), freshman Joe Pierce (48) and junior Colton Horne (52) were the next four Bulldogs to finish.
"Tucker had a really good day," Spielman said. "He made about a 30 second drop in his time. Brian also dropped his time about 20 seconds from the first meet. Everybody else ran well and ran similar times from the first home meet. We just need to put everybody together, running well at the same time."
Baldwin will compete at the Sabetha Invitational today. The girls' race will be at 4:30 p.m., followed by the varsity boys and junior varsity boys at 5 and 5:30 p.m.
"It will be a good time," Spielman said. "We will go against some good competition, which will be nice. It will also be nice to run against schools our size or smaller."