Baker volleyball coaches reaches 300-victory milestone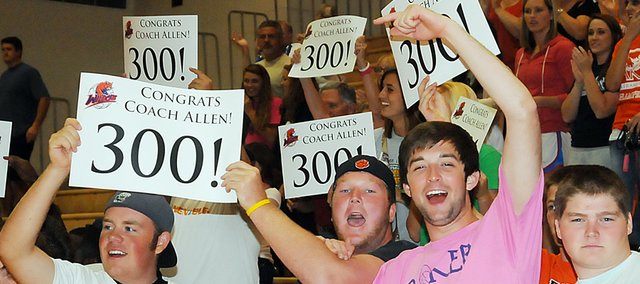 Baker University's volleyball team had more on its mind than just a normal win when it hosted Graceland University on Tuesday at the Collins Center.
The Wildcats wanted a home conference victory, but also wanted a landmark win for coach Kathy Allen. They got both Tuesday. Allen earned her 300th win as the Wildcats coach.
"It was fun," Allen said. "I'm excited, but I feel old. You have to be coaching a long time to get to 300."
Baker (13-10 overall and an undefeated 4-0 in the Heart of America Athletic Conference) defeated the Eagles in three sets (25-21, 16-25, 25-18, 26-24).
"I thought we played very well," Allen said. "I thought Savannah Smith was exceptional and so was Brooke Allen."
After the match, Baker Athletics Director Theresa Yetmar, BU students and the Wildcats team honored Allen for her milestone achievement. Allen was given balloons and flowers, while players and fans help up signs recognizing the 14th-year Baker coach.
"It was very special for the whole university and our volleyball program," Yetmar said. "It shows what Kathy's done to build it and all of her effort to student athletes over the years.
"It's fun coming full circle and see the success continue, not only when I was here as a student, but now as an administrator," she said. "It's a lot of fun. I was really nervous those last few points of the match. I get into it as much as our students and fans do."
Baker trailed late in the fourth set twice. Graceland led 14-9 before Baker rallied to tie the game. Later in the set, Graceland led by three. Once again, the Wildcats tied the set.
The Wildcats scored three of the final four points to win the set and the match.
"We just made a couple of unforced errors," Allen said. "I have a couple of young kids on the team that are really athletic, but they're going to make a few mistakes. Luckily, we recovered from them."
Christina Delladio and Smith led Baker with 12 kills each.
The Wildcats will host Tabor College at 4 p.m. Saturday.