Baker University sports roundup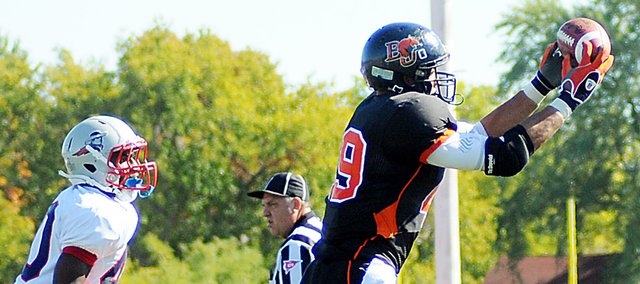 Wildcats remain unbeaten in men's soccer
No. 10-ranked Baker University improved to 10-0 with a 3-2 victory over Central Methodist in its men's soccer conference opener on Sunday in Fayette, Mo.
The Wildcats scored all three of their goals in the first half with Odaine Sinclair connecting twice and Andy Griffin once. Sinclair and Tom Lowndes both provided an assist.
Baker will play host to Graceland at 7:30 p.m. Saturday at Liston Stadium.
MidAmerica Nazarene rallies past Baker

Trailing by 10 at halftime, eighth-ranked MidAmerica Nazarene rallied and hung on for a 33-30 Heart of America Athletic Conference football victory over Baker University on Saturday at Liston Stadium.
The Wildcats led 23-13 at halftime before the Pioneers responded with 13 unanswered points in the third quarter. In the second half, MidAmerica Nazarene opened with a six-play, 61-yard drive to pull within 23-20 and recovered an onside kick on the next possession.
"I'm a firm believer in momentum," Wildcat coach Mike Grossner said. "We outplayed those guys, but we sure didn't outsmart them."
Baker (3-3, 2-3 HAAC) travels to Avila University (0-5, 0-3) for a 1 p.m. kickoff on Saturday in Kansas City, Mo.
Wildcat runners shine at Emporia meet
Baker University's men's cross country team finished third and the women fifth at the Emporia State Invitational on Friday in Emporia.
The men compiled 135 points to place behind Northwest Missouri State (54) and Fort Hays State (133).
Aaron Caldwell paced Baker, placing 15th overall in the 8-kilometer race in 26:11.18. Corey Clark finished 26th in 26:31.90 and Eric Larson was 34th in 26:46.06. Chris Scheideman (38th, 26:56.00) and Taylor Nall (43rd, 27:02.94) rounded out BU's top five.
In the women's 5K, Baker's Lauren Jaqua finished fifth in 18:32.53. Ashley McBride was 19th in 19:08.86 and Kerry Kurta 25th in 19:29.02. Lindsey Brown placed 39th in 20:00.94 and Dana Loveland finished 89th in 21:22.12.
The women compiled 155 points to finish behind Northwest Missouri State, Wichita State, Fort Hays State and Park.
The Wildcat runners will race on Saturday at the Central Methodist Invitational.
Women's soccer streak snapped at six

Central Methodist edged Baker University 2-1 in the women's soccer conference opener on Sunday in Fayette, Mo., snapping the Wildcats' six-game winning streak.
Baker's Ashley Mauck scored the Wildcats' lone goal after an assist from Alix Schiraldi in the 63rd minute after down 2-0.
Baker, ranked No. 12, dropped to 6-2 with the loss.
The Wildcats will play at 5 p.m. Saturday against Graceland at Liston Stadium.