Santa Claus visit thrills, scares Baldwin City youngsters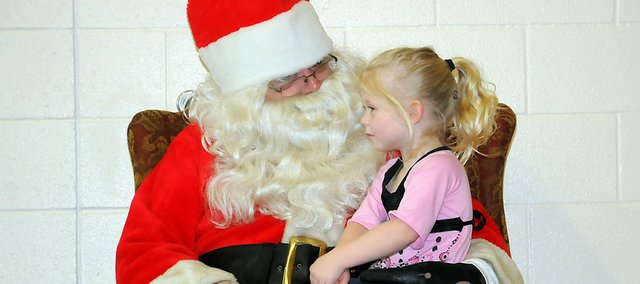 Baldwin City children didn't have to travel to the North Pole to let Santa Claus know what they wanted for Christmas. Instead, they let him know their Christmas wishes at the Baldwin City Recreation Commission's Breakfast with Santa event Saturday at the Baldwin Elementary School Intermediate Center.
Tickets to the holiday breakfast were sold to help support the recreation commission's scholarship fund. Ticket costs included crafts, pictures with Santa and pancakes provided by Chris Cakes.
Debra McCullough, Baldwin City Recreation Commission administrative assistant and senior coordinator, said the event benefitted from volunteers took money at the door, snapped photos, wrote names and addresses to send photos with Santa and handed out gifts.
Jill Dodge and her 2-year-old daughter traveled from Eudora to attend the breakfast with Jill's mother.
"I don't even think (my daughter) said a word to Santa, but she loved it," Dodge said.
Some parents at the event said not only was the event convenient because it was local, but they didn't have to fight crowds at the mall or wait in long lines to let their children sit on Santa's lap.
"It's a set time. You're going to be comfortable while you wait," Gretchen Trendel said. "You don't have to stand out in the cold. It's just a comfortable environment to see him pretty easily."
Gretchen, her husband, Kyle, and their two daughters, 9-year-old Gracie and 5-year-old Addy, have attended the event for a few years. The girls were anxious to sit on Santa's lap and ask for the perfect Christmas gift.
"I'm asking for Extreme Dot-to-Dot," Addy said. "It has over 1,200 dots on one page."
Gracie used to be scared of Santa, however is no longer afraid now that she's 5.
"She's actually a little disappointed that the reindeer don't make an appearance too," Gretchen said.
McCullough said many times the children were scared of Santa and have their parents sit with them or hold their hands, but as they get older, the fear turned to excitement.
"We've done this so long to see the year to year the kids who keep coming back, how they won't like him one year and the next year they'll be excited cause they've grown up," McCullough said.
A total of 75 tickets were sold for the breakfast and the recreation commission was able to raise $100 for the scholarship fund.