Nottingham joins Cowgirls' equestrian team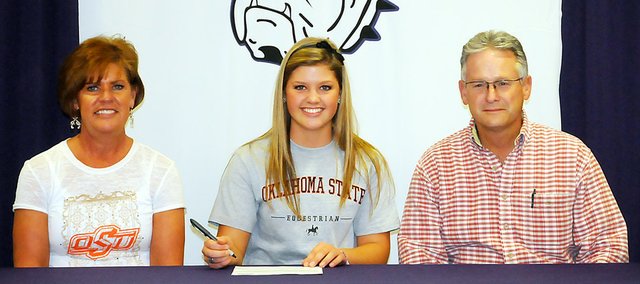 Paris Nottingham will be college bound next summer and has plans to join the NCAA collegiate ranks.
The BHS senior will be continuing her career of showing and riding horses as she joins the equestrian team at Oklahoma State University. Nottingham signed a letter of intent last Thursday to go to OSU next year.
Nottingham celebrated the collegiate signing with a ceremony after school last Thursday. Family and friends attended the event, which was the second college signing of the year for BHS.
"This is very exciting," Nottingham said. "I'm happy my friends and family could be here to celebrate this day with me.
"A couple of my friends have come and watched me show," she said. "Some of them understand it, but most of them don't really know what it is that I do. They've all been really great in being there for me, supporting me and having an interest in what I do."
Her oldest brother, Braxton, attended OSU, so Nottingham was familiar with the school before visiting. Equestrian coach Larry Sanchez invited her down for a visit and after taking it, she knew the next day where she was headed for college.
"During the past couple of years, I had been thinking about riding in college," Nottingham said. "I went down on my visit and decided the next morning that's where I wanted to go."
She was impressed on her visit with the campus and the way she was treated.
"It was very impressive," Nottingham said. "They definitely know how to wine and dine you. The campus has undergone a lot of renovation, so it's really nice. The benefits of being a student-athlete are awesome."
Nottingham has had success on the local and national level showing horses. In 2009, she placed sixth out of 167 competitors in the Trail event at the American Quarter Horse Youth World Championship show in Oklahoma City. It was her highest finish ever.
Now she will continue on the OSU Cowgirl equestrian team. She had the program has several national and conference championships.