BHS

students,

PAC

shine in fall musical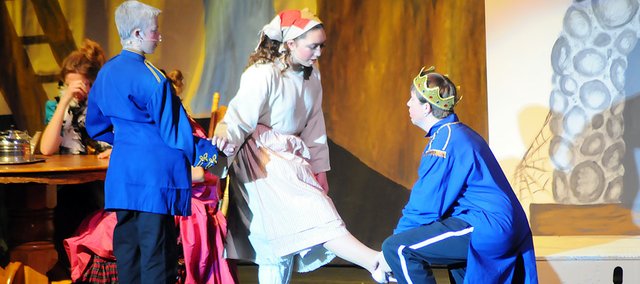 Benjamin Foster helped Madelynn Knisley try on the infamous glass slipper and the rest is history.
Besides the joy of making the Walt Disney classic "Cinderella" come to life, the Baldwin High School students made history Friday and Saturday nights. The BHS drama students completed the first musical performance in USD 348's new Performing Arts Center.
Knisley, one of eight seniors involved in the musical, was happy with the performance.
"I thought the show went very well," Knisley said. "The entire cast and crew put all their effort into making the show great and it definitely paid off in the end. My favorite part of the production was performing all the scenes with the stepfamily. They really brought their characters to life and were great scene partners."
Katherine Cook, BHS English teacher and stage director, was pleased with the students and their performances over the weekend.
"As I director, you lose perspective," Cook said. "It's hard to judge the show, but the kids did everything we asked them to do. If there was anything missing, it's because we didn't tell them to do it, because they did their part.
"I think we had a few more technical glitches in the second show. They weren't things that we could fix at the time. The kids performed about the same both nights, but we just had some technicalities."
"Cinderella" was the first musical in the PAC since it opened in May. The new facility has a larger stage, better lighting and electrical systems, more curtains and a bit more seating than the old auditorium inside Baldwin Junior High School.
However, learning to use it all to make the show successful is an on-going process for the BHS directors and students. It's a process they are enjoying.
"It's harder work, because you have to take care of so many more things," Cook said. "But the kids really like performing on the stage. When you're on that stage and you look out, you feel like you're really doing something important. It just seems much more professional.
"We have the capability to run body mics, and they are now, so they should work pretty well. The opportunity to raise and lower backdrops, instead of having just one backdrop is wonderful. There are so many outlets that if we can figure out what to do, we can make it happen."
This year's musical is the first Walt Disney production in years. Knisley played the lead role of Cinderella, while Foster played Prince Christopher, whom she falls in love with at the ball.
"This was my first lead role," Knisley said. "It was a challenge since I am used to ensemble and chorus roles, but it was well worth all of the time and effort I put into it."
Like many young girls, Knisley has wanted to play the role of the famous Walt Disney princess.
"I loved playing Cinderella," she said. "It has been a dream role of mine ever since I got started in theater, and I couldn't have imagined a better role for my senior year."
Cook was proud of her senior in her first lead role.
"Madelynn did a great job throughout our work on the production," Cook said. "She was at every rehearsal. She knew every line and every lyric. She always tried to take direction and that's a really wonderful thing to ask of an actress."
Baldwin High will have another performance in the PAC during the spring.