BHS

activities help exchange students build friendships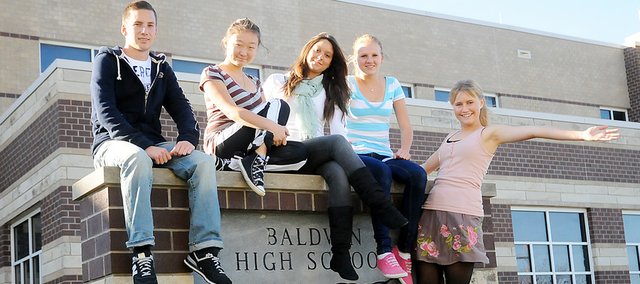 Baldwin High School students are broadening their horizons this year by interacting with five exchange students spanning four countries and three continents.
BHS has taken in many of exchange students during the years and this year is no exception. This year's students come from different backgrounds and have different reasons for coming to the United States. They have also found ways to fit into BHS with activities, clubs and sports.
The students were involved in cross country, boys soccer and girls tennis in the fall. Some are playing basketball this winter, while others are involved in scholar's bowl or Fellowship of Christian Athletes and other BHS clubs.
"I would recommend exchange students do a sports, especially if you are shy," said Miriam Conath, a student from Germany. "It forces you to talk to people every day. It's also easier to find friends.
Linna Fredstrom, from Sweden, agreed activities helped build bonds.
"It was hard at first to find common interests with other students, but if you have a sport you're doing together, you always have something to talk about," she said.
Now it's time to meet the five exchange students who are spending a school year at BHS.
Gabriela Antunes
This Brazilian native, who left a city of millions to a community of 4,000 residents, came to the United States for several reasons.
"I want to improve my English," Antunes said. "I also want to experience a new culture that could maybe help me in my future because I want to be a journalist."
Antunes is staying with the King family. The first few months have been enjoyable for her.
"I think it's a really good experience to live with a totally different family," Antunes said. "I share my room with my host sister, so you learn a lot. You also learn more about the culture with the family."
She has also enjoyed BHS and the options of classes that students are able to take during their school year. She also enjoyed her fall on the girls tennis squad.
"I like that we can choose the subjects we are doing at school," Antunes said. "We can take classes like guitar and yearbook instead of just boring classes. I like that we change classrooms, too, because in Brazil we spend the whole day in the same classroom."
Although it's been tough being far away from her family and friends, Antunes is looking forward to the holiday season and the white powder that usually falls from the sky during the winter months.
"I'm excited for Thanksgiving, because it's very American," Antunes said. "We don't have it in Brazil. I'm also happy to be here for Christmas, because we get to decorate the house and have a Christmas in the snow. I've never seen it snow. I'm really excited for the snow."
Lucas Boehme
This Germany native is one of two students from the European country. He took his parents' advice and came to study in the U.S. for a year.
"I had the chance to choose other counties, but I think the USA is the country for exchange students," Boehme said. "It was also the idea of my parents. They said I should go."
His hometown has a population of roughly 250,000, so living in Baldwin City has been a change. However, it's one he's enjoyed thus far.
He's adjusted to life in Baldwin City and at BHS, playing soccer in the fall.
"It's really nice that everything is so close," Boehme said. "The school and everything is close together. The only thing I don't like is that every day has the same schedule. It's boring and easy to forget which day it is, because it's the same."
He is staying with the Berndt family. It's been a nice change for him away from his real family in Germany.
"I also get in arguments with my sister or my parents back home, but not here," Boehme said. "Also, I can do different things here, like go golfing."
Now, he's excited about the upcoming holiday season.
"I would like to see how they do Christmas and Thanksgiving here," Boehme said. "It should be fun."
Miriam Conath
Conath is the second German-native at BHS this year. Being an exchange student is popular at her German school, so she chose to study abroad. She chose the U.S., partly because of cost, but it's been a decision she hasn't regretted.
"I went on my own choice," Conath siad. "I wanted to go because a lot of students at my school wanted to go. A lot of them went to Australia or Canada, but that's like $24,000. America is cheaper, so that's why I came here. I also wanted the experience of it, improve my English and find new friends."
Conath is living with the Katzer family. Junior Jessie Katzer ran cross country in the fall and is playing basketball this winter, so Conath joined both sports. She loved her time on the cross country team, and she enjoys her time with the Katzer family.
"I like cross country," Conath said. "It was a really good thing to be a part of that. It was fun to be around the seniors, because they are always joking around. I was upset that I couldn't run at state, but I was happy I was there.
"I really like my siblings. I like them a lot, because I fight a lot with my real siblings in Germany. Since I've been here, I've had a really good relationship with all of them. They seem like a really happy family, and it's nice to be a part of it."
However, Baldwin City has been a big change for her as her hometown has more than 2 million residents. She's enjoyed her stay with the Katzer's, but she admits it's been tough living outside the city limits a few miles.
"I like Baldwin," Conath said. "It's a pretty city, but it's really, really tiny. Plus, I live 10 minutes out of town so I don't think it's good for exchange students to live that far out of the city. It makes it hard when you want to hang out with friends who live in the city."
Conath has experienced some ups and downs during her stay. She was injured during the cross country season, but she met many friends on team. Unlike some of the other students, she has seen enough snow in Germany to damper her enthusiasm for winter.
"I'm a little suspicious about Thanksgiving, because I don't think the food here tastes good," Conath said. "I can handle it and it's not like we eat a lot of different things in Germany, but it's better quality. I am excited for Thanksgiving, because I think it's going to be good food."
Linna Fredstrom
This Sweden native is one who will be excited for the snowfall of the year, despite having snow for months in her homeland.
"I've had snow my entire life, and I still get excited for it," Fredstrom said. "It's great in December and around Christmas, but by January you're tired of it."
Fredstrom chose to study in the U.S. after considering other countries. However, those countries were too close to home for her taste.
"I was thinking about going to England, because then my year would actually count," Fredstrom said. "But I didn't think that would be as exciting, because I would be too close to home. I feel like it would be too easy to go back home if something were to go wrong. It would also be too European."
Fredstrom, Boehme and Conath will have to retake this entire year in their home countries. That was one drawback of coming to the U.S.
Fredsrom is staying with the Clem family during her time in Baldwin City. It's been a positive experience in her life.
"I think it's really cool to have a new family," Fredstrom said. "I'm not leaving my other family behind, but now I have two families. My family here is very different from my family back home, but I don't see that as a bad thing. I see it as a way to be more understanding of other people."
Life as a BHS student has been fun for her, too. She played tennis in the fall and performed with the pom squad once.
"I like a lot of things, but I really like the sports that are related to the school, because we don't have that in Sweden," Fredstrom said. "You have go to through a private place and that makes it expensive. Plus you do it more than once a week, so here you get to see your team every day after school. I also like all of the clubs and activities going on. It's very nice."
Now, she's ready for the holiday season. While she's not a fan of football, she hopes to take part in some American traditions this weekend.
"I heard you do a lot of shopping," Fredstrom said. "I'm excited for Black Friday. It sounds fun and exciting. I'm also excited for the turkey and watching football. I heard that's what people do."
Irina Soy
Baldwin High's final exchange student is the lone Asian native. She calls Turkmenistan her home. It's the country directly north of Iran and Afghanistan. Coming to the U.S. has been an idea of hers for a long time.
"It's been my wish since childhood to come here," Soy said. "I'm very interested in American culture."
She is now here and staying with the Farmer family. Like the rest of the students, she enjoys her home stay.
"I'm enjoying my stay with them," Soy said. "They are very close and they are like my real family. I feel like I'm a part of their family."
She found it difficult to make friends at BHS early in the school year. Then she joined some clubs and the scholar's bowl team and those helped her fit in better. Soy was surprised and how friendly high school students are to each other at BHS.
"It's very different," Soy said. "Here, people talk to each other a lot more. In my country, people don't talk to strangers. I'm enjoying my time here."
Thanksgiving should be a fun holiday for her as she's looking forward to the big meal with her host family.
"I'm excited to have a big dinner with my family," Soy said. "It should be a fun time."