Baldwin High earns numerous postseason soccer honors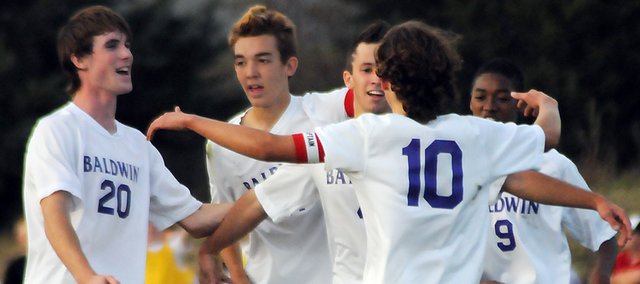 Baldwin High School's successful boys' soccer season led to many postseason honors for the Bulldogs, who earned their first-ever state bid this year.
The Bulldogs finished the season 14-4-1, which is five more wins than last year and 12 more than the 2009 season. The 2011 campaign also saw the Bulldogs win their first regional title and play in a state quarterfinal game.
That success didn't go unnoticed by opposing coaches. Five players earned All-Frontier League honors, six were named to the All-Region team and two were chosen All-State.
"I think finally wining the region and getting to state really helped our team," coach Mark Joslyn said. "It made coaches around the state be aware of Baldwin soccer. The kids that represent that were given some support in the voting."
Senior Louis Joslyn led the way with three nominations, including being chosen on the First-Team All-State. He scored 12 goals and earned 16 assists for the Bulldogs as a midfielder.
"I'm pretty excited about it," L. Joslyn said. "It's nice to be recognized individually, but I think all postseason awards are a tribute to the great season we had as a team. Before this season, nobody really heard of Baldwin soccer, but now we have a couple guys on the all-state team and multiple players on all-region and all-league, as well. It's great for the team and program in the coming years."
Senior Caleb Michels was chosen Honorable Mention All-State. Michels led BHS in scoring with 15 goals, despite not scoring the first few games. Michels and L. Joslyn were also named to the First-Team All-League and First-Team All-Region.
Joining them on the First-Team All-Region was fellow senior Clint Chapman. Junior goalkeeper Mason Bandré and sophomore midfielder Nicholas Joslyn were named to the Second-Team All-Region.
"I think it is a great accomplishment," Chapman said. "It reflects not only me, but how great our team did as a whole."
Coach Joslyn was puzzled how his goalkeeper was named to the second team, despite not allowing a goal in two region games. The Fort Scott goalkeeper was chosen on the first team, but allowed five goals in a loss to Spring Hill.
"We had many shutouts this season," Joslyn said. "Mason was a big part of that and the coaches recognized that."
Bandré, Michels and both Joslyn brothers were named to the First-Team All-Frontier League, while Chapman was chosen for the second team. L. Joslyn was also named to the Kansas Soccer Coaches Association All-Academic First-Team.
"I think it speaks well for both the individuals and the team and the success of both," coach Joslyn said. "I think it's really good for our team and players."
The BHS players and its coach were thrilled with the season. The Bulldogs set BHS records for wins, most shutouts and consecutive games in a season.
"This season was by far the best season I've had at BHS," L. Joslyn said. "It wasn't just because of all the records we broke. I just felt like the team dynamic and chemistry was definitely there this season. I will truly miss all these guys next year and wish them the best going into next season."
Chapman agreed.
"This season was incredible," he said. "The amount of time on and off the field everyone put in really made the difference in the end. Our team chemistry, work ethic and overall ball skill really showed tremendous improvement as the season came to a close. The season really brought us all closer and it was really hard to see it all come to a end."
The Bulldogs coach was proud of his seniors for helping the team improve from two years ago and sticking with the program, despite only two wins as sophomores.
"I can't say enough about that group of guys," Joslyn said. "They were here when it was really difficult and they've experienced the bottom and the top.It really speaks well for them to play through tough years and then have the courage to face up to the big teams and win.
"They had a quality that not many people had, because it would have been easier for them to lay down or walk away and not confront the regional championship," he said. "They really wanted it. It's hard to confront stuff like that and I think it speaks volumes for that senior class."
Chapman and L. Joslyn each had different moments that were favorite for the season, but they both agreed winning the regional title at home was one of the moments. BHS beat Independence in a shootout to win the regional championship.
"I'd have to say it's a tie between the regional final game and senior night," Chapman said. "Both of these games really showed what we had been working towards all year long. I don't think we hit our full potential, but that was definitely the closest points. Also a big contribute to those being my favorite games was the large amount of fans we had show up. The most I have seen at a soccer game my whole high school career."
Meanwhile, L. Joslyn will always remember beating the rival Broncos.
"There were two major highlights in my mind," he said. "The first was beating Spring Hill. We finally got that monkey off our backs. It was an important win for us during a crucial time during the season. Second was obviously the regional final against independence. The significance of that game goes without being said. We needed a win, otherwise the season would not have felt complete. And we deserved the result. It was a great season and a lot of fun."