Baker men's soccer advances with 2-0 victory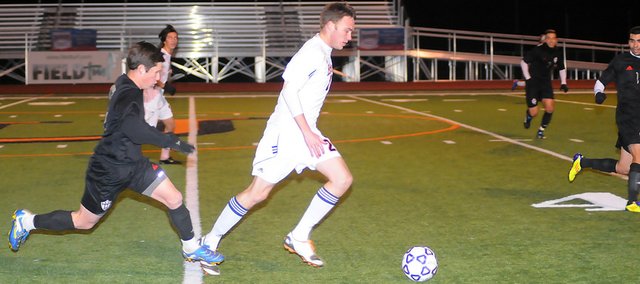 Baker University men's soccer team bounced back quickly from its defeat in the conference championship game Nov. 11.
In their following game, the Wildcats blanked Oklahoma Wesleyan 2-0 on Saturday at Liston Stadium, advancing to the NAIA Men's Soccer National Championships final round of 16.
"The guys played well and got a good result," Baker coach Nate Houser said. "We're always happy if we can get a win, especially to keep the season alive."
Houser was proud of his team for improving on playing more aggressive after rival MidAmerica handed the Wildcats their first defeat of the season.
"Defensively, we were much better and more aggressive," Houser said. "Offensively, it took us a little while to get in a groove. I thought that after about 20-25 minutes, we were able to be more of ourselves."
Donny George scored in the 20th minute off a corner kick from Tom Lowndes to give the Wildcats and early edge.
"Getting that first goal for us was huge," Houser said. "We hadn't had a lead early like that in a few games and I think we got back to who we are and what we're about."
Odaine Sinclair put the game out of reach in the 76th minute after he received a ball in the box off a throw-in from Sean McAlister.
"It helps put everybody's nerves at rest," Houser said. "It lets the guys enjoy the moment a bit."
Baker goalkeeper Matt Bickley made one save in the contest to record his eighth shutout of the season.
Baker and Oklahoma Wesleyan played earlier in the season. Baker won the game 4-2 at Liston Stadium. Both teams used knowledge from that contest in Saturday's game.
"They got a sneak peak at our speed, size and how we like to play," Houser said. "I think they were quite surprised the first time and their coach had mentioned that they made some changes after seeing how we played the first time. It's always going to be much, much tougher the second time."
The Wildcats (18-1-1) will return to action on Monday to face Huston-Tillotson (Texas) at Orange Beach, Ala. Houser also coaches the women's team, who will be headed to the NAIA round of 16, too.
"It's the best problem in the world to have," Houser said.