Baker women defeat Bellevue 2-1 in
NAIA

opening round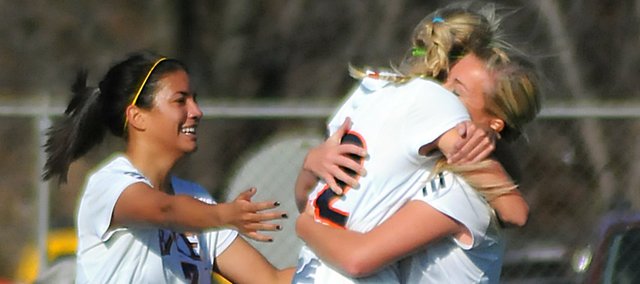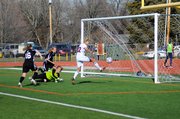 The Baker University women's soccer team is headed back to Alabama, where it made history a year ago.
A steady attack paced No. 18 Baker University past No. 22 Bellevue University (Neb.) 2-1 Saturday at windy Liston Stadium. The Wildcats advanced again to the final round site of the 2011 NAIA Women's Soccer National Championships.
"I'm very excited for the girls," coach Nate Houser said. "This is a special thing and you don't want to take for granted. This program spent 15 or 16 years without getting a sniff and to be able to go for a second year in a row is really something special.
"We have girls who know how to win," he said. "I think that's a huge part that gets overlooked. The gilrs that broke through have set a tone that has had an impact on these girls. Winning is now expected."
Senior Skylar Baker is excited to return to Alabama her final year.
"Being my senior year, it's super exciting," she said. "It's really exciting to go and return like last year. Hopefully we can make an impact again and go further."
Baker put the Wildcats on the board first with a goal in the 36th minute. Jordan Dolbin's blasted a shot from 35-yards out and the ball bounced off of Bellevue goalkeeper Caitlin Stier's hands and rolled in front of the net. Baker was in position and booted the ball into the net to end the scoreless tie.
"I was just in the right place at the right time," Baker said. "It was a shot from Jordin and luckily it bounced off the goalie. I was there to put it back in."
The Wildcats took a 1-0 advantage into halftime while outshooting the Bruins 18-4.
"I thought we created our own luck today," Houser said. "The elements played a part for both teams, but I really don't think there was an advantage for either team."
Houser and Baker agreed the windy conditions had a huge impact on the contest.
"It was awful," Baker said. "It was no fun at all. We came out, used it to our advantage and scored early. In the second half, we were on defense and we played it very well."
Just six minutes into the second half, Baker struck again thanks to another ball into the box from Dolbin to Alix Schiraldi.
"Instead of protecting the lead, we wanted to pressure them and see if we could get another one," Houser said. "We were fortunate that we put a ball in a dangerous spot and it went our way."
Bellevue added their only tally of the game in the 74th minute when Meredith Shuman struck from 40 yards out on a ball that caught the downwind and sailed over the head of Baker goalkeeper Rachel Theobald.
Baker (14-3-1) outshot Bellevue (14-2-3) 20-11 overall.
"We've made an effort to go get good soccer players," Houser said. "Even though they are freshman, Shelby and Leslie, were absolutely fantastic today. Amber did really well today. (Jessica) Shiney is our old lady back there. They all played great for us defensively."
The Wildcats move on to the final round of 16 in Decatur, Ala., where they will face Martin Methodist (Tenn.) on Monday.
"I think we'll kind of let the girls wind down from this right now," Houser said. "We've been pushing them so hard. Thanksgiving couldn't come at a better time. Hopefully we can get our batteries recharged."