'

Cinderella' will be first musical for new

USD

348 Performing Arts Center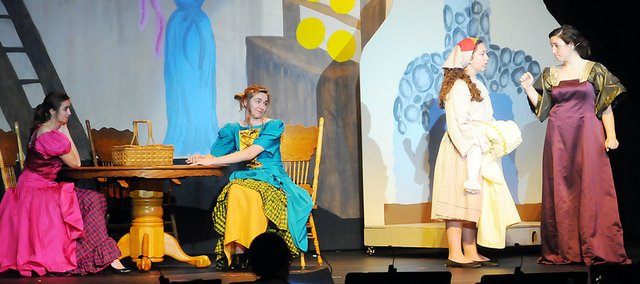 As Baldwin High School students prepare for their first theatrical performance in the new USD 348 Performing Arts Center this weekend, they have more to learn than dialogue.
BHS theater is performing the musical "Cinderella" for its fall musical. Preparations have been going strong as the first show is scheduled for 7 p.m. Friday.
"We have so much to learn about this new auditorium," Co-director Katherine Cook said. "We have all of these new things and now we're working at learning how to use them. We want to be safe and make the show interesting. There is a lot more to it than people would guess."
"We are beginning our second-to-last week of rehearsal," junior Sammie Weiss said last week. "Right now, we're trying to get everything polished and smooth, including lines, dancing, blocking, and costumes."
Cook is nervous about the show starting Friday, but she knows it will come together as it does every year.
"I have to believe in the theater magic," Cook said. "At the very end, everybody does what they need to do and they want to be great, so they will bring it together. That includes the costumes, scenery, lighting and special effects. It's fun to see it all come together."
Choral director Beth Nelson said the choral was getting in place finishing final touches.
"(We are) rehearsing lines, blocking, choreography, singing, orchestra," Nelson said. "We are also beginning work with some small children, lights, sound, costumes, and set pieces."
The musical, while fun, is also challenging.
"The most challenging part of the show right now is ensuring that everyone knows all the dance steps, blocking, lines and songs," Weiss said. "Once we get those things smooth, the show should run much more smoothly. That's what we will be doing over the course of the week."
Nelson said the more challenging aspects of the musical would be some of the more complex scenes.
"Figuring out how to turn a pumpkin into a carriage and mice into horses is a pretty good challenge," she said. "Also, this show is almost completely timed with music. There are few lines that are spoken without music behind them. Getting the lines to match the music is a fun challenge."
One reason the staff chose to perform "Cinderella" is because of its simpler set and costumes compared to other Walt Disney shows.
"The kids have always asked to do one of the Disney shows," Cook said. "We've talked about others, but hard to costume that with zero budget, so this one is easier. Plus, "Cinderella" has a chance for at least five girls to have big parts. We always have more girls interested in the show."
Despite the difficulties, the musical is progressing well and the students are ready to open the show.
"Right now, everything is going pretty well," Weiss said. "Most people know all of their lines, and those that don't almost do. Also, we're doing fairly well on the songs. Most of the individual parts of the show are pretty strong, we just have to pull it all together."
Cinderella is being performed at 7 p.m. Friday and Saturday in the new Performing Arts Center.
Editor's note: BHS journalism student Austin Kraus contributed to this story.