Brungardt signs with St. Louis to play softball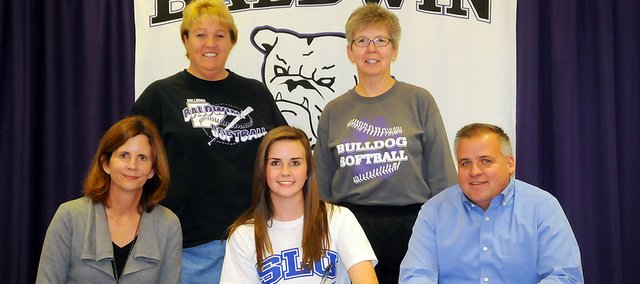 Months before her senior season begins in March, Baldwin High School senior Madeline Brungardt has already chosen her college.
Brungardt will be taking her softball talents to Saint Louis University next year. She made it official Monday by signing a letter of intent in front of family and friends.
"This is a very exciting day," Brungardt said. "It's been a long time coming."
She was happy to have her college chosen before she plays softball for the Bulldogs in the spring.
"It's definitely nice to have my college chosen," Brungardt said. "It will be nice this spring. I won't have to worry about that, so I can have fun with our season."
BHS coach Ginger Crist was happy for her senior short stop.
"It is very exciting," Crist said. "This is one thing I enjoy about coaching ― seeing girls sign with colleges and going on to play at the next level.
"She plays on a very competitive summer team and she plays all-year round," she said. "She plays indoor tournaments during the winter. Her love of the game shows with her success."
During the summer, Brungardt and her mother, Heather, took a trip to Iowa and Missouri visiting colleges of different levels. During that trip, Brungardt decided she wanted to attend midsize school.
"I love the school," Brungardt said. "It's so pretty. The coaches are great. I get along with them very well."
SLU is an NCAA Div. I school located in the heart of St. Louis, Mo. The Billikens' coaches began talking to Brungardt during the summer when she played on the Kansas City Peppers 18-and-under team.
"At first, I didn't know anything about St. Louis," Brungardt said. "Through softball, I've got to know them better. I saw them at my games and so I shot them an email. Then it spiraled and spiraled into me going to visit. Then I verbally committed about two weeks ago."
During the summer, her KC Peppers team made it all the way to the World Series and finished third. She was named World Series Offensive MVP.
"It was awesome," Brungardt said of the award. "It probably made my whole summer. It was a lot of fun to go that far as a team. It was nice to go that far, but I think we could have done better. It was a good experience."
Brungardt has started all three years as a Bulldog. She is a three-year letter winner in volleyball and softball. She hit .514 last spring for the Bulldogs, which was an improvement from .462 as a sophomore and .365 as a freshman.
After her junior season, she ranks No. 2 on the BHS all-time hits and No. 6 in all-time runs scored. Her .514 average ranks fourth best at BHS for a season batting average. She led the Bulldogs in batting average, walks, stolen bases and runs.
"It's very nice to see Madeline's hard work and success pay off," Stevanus said. "She's a good student and an outstanding kid. St. Louis is getting a great student and a kid they can be proud of."
Crist is excited to Brungardt continue her career as a Billiken, but not before one final season as a Bulldog.
"She's been recruited as an outfielder," Crist said. "She was a very good outfielder for us as a freshman and she covered a lot of ground out there. She's also one of the best players we have and because she's so tall and long, she has great range at short stop."