BHS

winter sports begin practices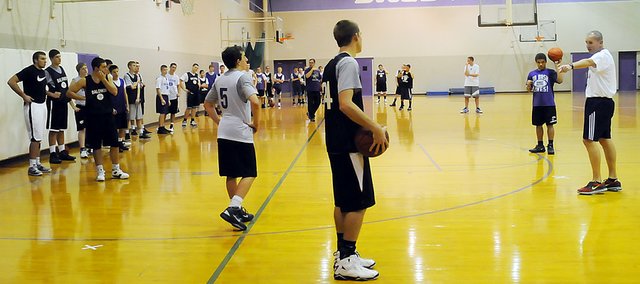 Colder temperatures mean two things ― winter is approaching and it's time for winter sports at Baldwin High School.
On Monday, BHS athletes headed to the gym for the first day of basketball and wrestling practice. Nearly 100 students are participating on the three teams.
After the first days of practice, the BHS coaches are pleased with the early results.
"The kids are working really hard," first-year BHS boys' basketball coach Dustin Leochner said. "They are picking things up really well. We've seen improvement from day one to day two. We are basically getting up and down a lot, without putting too much detailed stuff in yet. We don't want them standing around much."
BHS girls' basketball coach Bob Martin shared a similar sentiment.
"There was plenty of enthusiasm," Martin said. "It was the first day of practice, so they were a bit rusty. They worked really hard and you could tell they picked up a lot of stuff we did this summer, which makes for a fairly good transition. For the most part, it was a good first day."
Meanwhile, the BHS wrestlers headed to South Gym, located at the corner of Eighth and Chapel streets and adjacent to the District Office.
"The first couple of days have been awesome," coach Kit Harris said. "We have a great group and I think I'm really going to like this group. Their work ethic is solid."
Harris has about 26 wrestlers this fall. Many of them have competed for BHS or Baldwin Junior High School. Like every winter team, he has some athletes who are coming off fall sports and others who are just focused on the winter, but regardless, they are ready for their season.
"They seem to be excited and ready to go," Harris said. "Some kids have working year-round for this season. Others are coming out of a successful fall sports season, so they are excited to carry on the winning tradition in wrestling."
Inside the BHS gym, both basketball teams worked on fundamentals and conditioning during the opening days. For Leochner, it was also a chance to connect names with faces once again and to meet the freshman class.
"I got to know most of them over the summer," he said. "We had about 25 kids that were pretty regular this summer, so I know more than half of them pretty well."
There are 43 boys out for the basketball team this winter. While the level of participation is good, the Bulldogs' coach said it has been difficult to keep everybody involved and moving during practice.
"It's good and bad, but it's mostly good," Leochner said. "Obviously, you want to have kids interested in the program. It's a lot better to have it that way than the opposite. It does have its challenges as far as keeping practice moving, but we're lucky because we have a big gym here."
On the girls' side, BHS has only 28 players out this winter. That number is higher than last year's total. The Bulldogs return several players who played significant varsity minutes last year, but they lost their top four scorers.
"We are a little young," Martin said. "We don't have very many upperclassmen, but we have some girls with experience. We have a big junior class that have ben in the program for a few years and they've accepted their leadership role."
The BHS basketball teams will start their season Dc. 2 at home, while the wrestling team begins Dec. 3 at Gardner-Edgerton.