BHS

seniors prevail in annual powderpuff games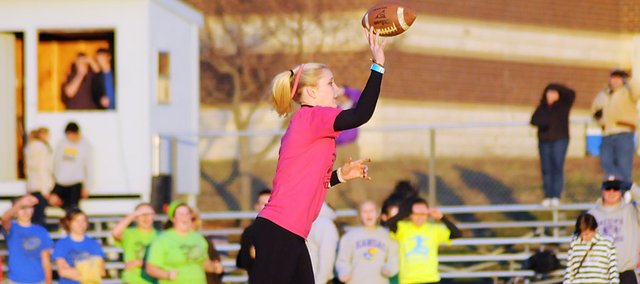 While the past week at Baldwin High School was buffer week, meaning students could not access the gyms to practice sports, that doesn't week was not totally sports free.
BHS girls participated in their annual Powderpuff game that the student council organizes every year. The game was played last Thursday at the BHS practice football field.
"No one ever got super competitive or mean about anything," senior Paris Nottingham said. "It was a lot of fun."
Powderpuff is a flag football game played between a team of girls from each grade. During the past two years, only the junior and senior classes were allowed to play, but this year the BHS stuco changed that rule and allowed all four grades to play again.
"I like it better when all four grades get to play," Nottingham said. "It's more fun and you get the opportunity to play more than one game."
Most of the girls enjoyed their experience.
"It was really fun even though my team didn't win," junior Katie Pattrick said. "It was great having all of the girls out and having a blast."
Powderpuff, like any other sporting event has a champion, and this year the seniors were the champions. The seniors defeated the sophomores in the championship by a score of 18-12.
"I was so excited that we won," Nottingham said. "I was surprised that we won because we've never won before and we only had six girls playing but we had a lot of fun playing together."
Fellow senior Hayley Schwartz also enjoyed the victory.
"We won and we didn't cheat," Schwartz said. "It was great to win and we did it with only six players, while everyone else had seven."
Both seniors credited their coach, senior Colton Bonner. BHS football players coached each team of girls.
"We had an excellent coach," Schwartz said. "His main phrase was, 'you guys are athletes, so just do what you do.' We kind of just winged the whole thing."
Nottingham agreed.
"Colton Bonner was our coach and he came up with some pretty good plays," Nottingham said. "We just kind of winged it and it worked out really well. The guys told us to look ahead and block if we don't have the ball."
The seniors were also led by Lakyn Clark, who played quarterback for the team. She received high praise from her friends and teammates.
"She could throw really well and we all can catch," Schwartz said. "So she could throw to all of us. She would look around and see who was open."
In the championship game, the sophomore struck first with a touchdown, but the seniors scored quickly to tie the game. The sophomores were driving again, but Schwartz intercepted a pass, which led to a seniors' touchdown.
Both teams scored again, but it was too late for the sophomores. In the first round games, the seniors beat the freshman squad, while the sophomores beat the juniors.
"It wasn't game-winning, but I'm told it was game- changing," Schwartz said. of her interception "I just thought it was an interception. It came right to me."
Now that this year's Powderpuff has come and gone many girls are trying to decide whether or not to play next year.
"I will most definitely play in next year's game," Pattrick said.
While some girls, such as Pattrick, are excited and determined to play next year others didn't enjoy the experience as much.
"It was a good experience," sophomore Jenna VonBargen said. "But I don't think I will play next year or the year after because I'm not very good at football."
The girls participating were not the only people present this year.
"Between the girls participating and the people the came to watch we had a little over 100 people," BHS stuco sponsor Danielle Balsman said. "I definitely think we will keep the competition between all four grades because we have better turnouts.
Editor's note: BHS journalism student Abbi Carlson contributed to this story.