BESIC

continues Veterans Day tradition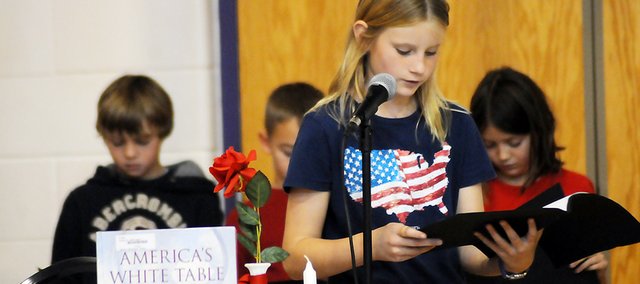 Students from both USD 348 elementary schools came together Friday to honor America's military veterans with songs, a book reading and lunch.
Four grade levels sang patriot songs to a large crowd of students, parents and teachers. The Baldwin Elementary School Intermediate Center audience then watched BESIC student council members recite a patriot book. The Veterans Day ceremony finished with most of the veterans joining the students for lunch.
"We served lunch to 318 people," BESIC Principal Dan Wallsmith said. "That's probably 120 more than we normally serve on a daily basis."
It's an annual tradition for the local schools to honor military personnel on Veterans Day. The BESIC staff has served lunch to military veterans for many years, dating back to when Tom Mundinger was principal.
"It was a great day," Wallsmith said. "The most veterans we've had is 54, so we had around 30 more than last year."
However, things were changed this year with consolidation. The tradition of the book reading started at Marion Spring Elementary, where students read "America's White Table" by Margot Theis Raven.
Former MSES Principal Gus Wegner took the program to Vinland Elementary School when he took over dual administrative duties at MSES and VES.
Both schools were closed at the end of the 2010-2011 school year. Wallsmith wanted to continue those traditions when the students came to BESIC, which is one reason the number of veterans attending Friday increased significantly.
"They are always very appreciative," Wallsmith said of the veterans. "They are always happy to be recognized. If it would have been a complete disaster, they would still be glad they got recognized. They like knowing that what they did still counts for something."
Adding the singing performances to the program was new this year. Students from the Baldwin Elementary School Primary Center came over to sing patriotic songs for the audience.
"The music teachers and Rita worked really hard on getting those performances to come together," Wallsmith said. "They get all of the credit for that. The students did an excellent job all around."
One problem was the length of the program. It was scheduled from 11-11:30 a.m., but it ran past noon with the book reading.
"We knew it was going to take longer than 30 minutes," Wallsmith said. "We were trying to keep it within our normal serving time, but we couldn't really move the time up, because we advertised it as starting at 11 a.m. So we just finished a bit later."
Wallsmith was proud of his students for being appreciative of the veterans and showing them respect all day. He said the teachers were a large part of making that happen Friday.
"The teachers do a really good job of prepping the students for this day," he said. "They talk to them about what is Veterans Day, why it's important and why we celebrate it. So they have a lot of background information when the veterans come to visit."