Baker soccer teams hosting
NAIA

playoff games Saturday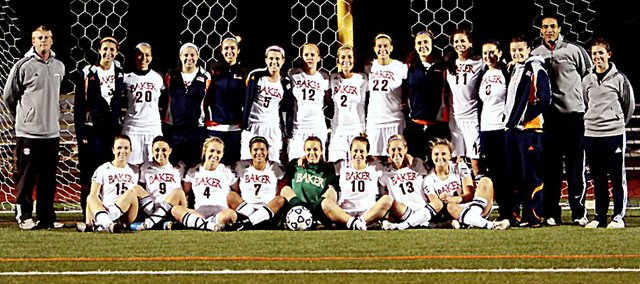 Baker University soccer teams will be continuing their seasons Saturday at Liston Stadium as they host 2011 NAIA Soccer National Championship Opening Round games.
It marks the first time in school history that both the men's and women's teams will be hosting a national playoff game during the same season. The women will play at 1 p.m. and the men will start at 6 p.m at Liston Stadium.
"If you said at the beginning of the season, this is where we'd be, we would have been over the moon," coach Nate Houser said. "This is such a great thing for the players to be a part of on each team."
The Baker University women's soccer team will begin its quest to defend its historic 2010 NAIA Fab Four run with a showdown against 22nd ranked Bellevue (Neb.) Saturday.
"Our returning players have set a great tone all year for our new players," Houser said. "I think we've grown into a team that deserves to be here."
Baker (13-3-1) received an automatic berth into the field of 31 after defeating Graceland University in the 2011 Heart of America Athletic Conference Championship Game. Bellevue (14-1-3) also received an automatic berth into the field after winning the 2011 Midlands Collegiate Athletic Conference postseason tournament.
The Wildcats enter play riding a five-game winning streak, with their last defeat coming against No. 16 Hastings College on Oct. 18. Bellevue enters play with a two-game win streak. Its only loss of the season came to unranked Vanguard on Sept. 17 by a score of 3-0.
The Baker University men's soccer team will host Oklahoma Wesleyan University. It's their first trip tot he national tournament since 2008.
"We had a group that we needed to add a little experience to," Houser said. "More so than anything, I just needed to let them grow. As the majority of our team are juniors, you can see their influence in the game at all times."
Baker (17-1-1 and the No. 3 overall seed in the tournament) was the first at-large selection in the field of 31. Oklahoma Wesleyan (14-4-2) qualified with an automatic berth after winning the 2011 Midlands Collegiate Athletic Conference postseason tournament.
The Wildcats handed the Eagles their last defeat in the regular season on Sept. 27 by a score of 4-2. Baker jumped out to an early 3-0 lead, thanks to goals by Ethan Bauer, Andy Griffin and Cameron Zimmerman. Donny George sealed the game in the 85th minute, netting a goal off a throw-in by Sean McAlister.
Both Wildcat teams played in the Heart of America Athletic Conference Championship Game last week. The women won their second-straight HAAC title on Saturday, while the men suffered their first loss of the season Friday night.
The Baker women's soccer team defended its HAAC tournament championship with a 2-1 victory over Graceland on Saturday at Liston Stadium.
"I knew we'd be a little nervous," Houser said. "We have a very young team. We gave one up, but we always ask the teams to do what we do and be who you are. You could see as time went on, our confidence got higher and our rhythm of the game got better. We started playing in their side of the field more."
The Wildcats rallied after surrendering a goal a minute into the contest when Gisela Arrieta connected from 15 yards out.
"We got caught watching the ball, more or less," Houser said. "We haven't played a team that attacks at that pace since we played them in a few weeks. We were also a bit unlucky. Maggie got both hands to it, but it was such a powerful shot that it deflected into net. We were just a step short."
Senior midfielder Skylar Baker scored in the 26th minute on an assist from senior midfielder Ashley Ukena for a 1-1 tie. In the 60th minute, Ukena scored the decisive goal on a breakaway from 25 yards out after an assist from senior Alix Schiraldi.
"Our first goal was a fantastic goal," Houser said. "We connected seven passes on the move. Once we scored, we were ready."
Baker outshot Graceland 13-11. Goalie Maggie Dupes recorded one save for Baker.
On Friday, MidAmerica Nazarene jumped out to a two-goal lead and never looked back handing the Baker University men's soccer squad its first loss of the 2011 season.
Trent Remmich put the Pioneers on the board in the 11th minute after he was rewarded a penalty kick on a foul committed by Tom Lowndes inside the Baker box.
MNU didn't strike again until the 61st minute when Luke Pontin received a ball inside the box off a corner kick, giving the Pioneers some much needed momentum.
"It let us know exactly what we've become," Houser said. "We went from a team trying to prove ourselves with a chip on our shoulder to a team that didn't want to lose what we got. We were afraid of osing our undefeated season. In the first half, we absolutely were trying not to lose.
"By the time we got to the second half, it was too late," he said. "They were ahead and they went two up. That kind of galvanized their team. While we made a great push and increased our energy level, we needed to start the game that way and it may have gone a whole different route. I think we're ready to on down the road."
The Wildcats climbed back into the game in the 75th minute when a loose ball in front of the MNU net when off a Pioneer defender into their own goal.
Riding the wave of momentum, the Wildcats outshot MNU 4-0 in the final five minutes of the contest, but were never able to tally the equalizer.
"We learned we can't wait," Houser said. "Our team is one that is going to go out and play at our pace and try to boss the game a bit. We're not reactors. We are proactive and we are successful. That's something we are going to have to remember on Saturday."