WWII

veteran witnesses history in Japan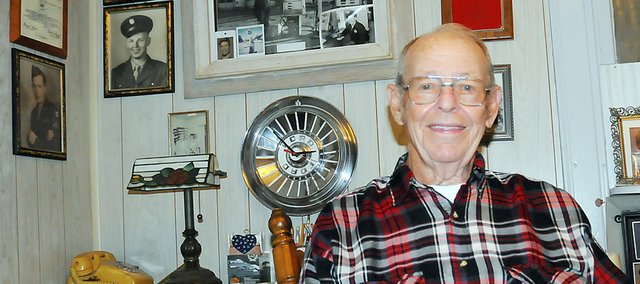 Although Archer Carlson was a bit late joining the United States' effort in World War II, the longtime Baldwin City resident witnessed a piece of history.
Nearing the end of his second year in the U.S. Army, the 86-year-old Kansas native was one of several soldiers who saw a Japanese general surrender his troops. It was Sept. 6, 1945, just four days after Japan's official surrender on the USS Missouri.
"It was very memorable," Carlson said. "It was quite an interesting thing and an important event in history."
It's a day he'll look back on Friday, when the nation honors all of those who have served in the military with the Veterans Day holiday.
Days after Japan's official surrender, Carlson found himself in Nagasaki, Japan, less than one month after the city was destroyed by the second atomic bomb. His crew of Army engineers witnessed an event in a field.
He recounts seeing a table with objects on it out in the field. They stopped to see what was happening. The U.S. officers arrived before Japanese officers met them at the table. They signed the paperwork.
"They had a samurai sword and a clock on the table," Carlson said. "He took the sword and broke it in two. Then he gave the two pieces to the U.S. officer in charge. He reached up and stopped the hands of the clock. He got up, bowed and left."
One month before the surrender, Carlson was in the Philippines working as an Army engineer. He was helping build roads and bridges, allowing easier transport for Army vehicles.
He didn't see much conflict during his months in the Pacific, but it wasn't an easy life.
"We were at the tail end of the conflict," Carlson said. "There were snipers everywhere. There were wires and explosives buried into the road. We were combating that all of the time. We didn't have any actual aggression against the Japanese. The major battles had already been taken care of," Carlson said. "We were the so-called cleanup crew."
After months in the Philippines, Carlson received news that the war would be ending soon. It was after the atomic bombs were dropped, and he had no idea at the time what those weapons were.
"They came over the radio and said they dropped an atomic bomb on Hiroshima," Carlson said. "What's that? We didn't know what an atomic bomb was. They said it's a big bomb and the war will be over pretty quick. Three days later, they dropped another on Nagasaki and that was it."
He was sent to Japan soon after the bombings. He spent the next 11 months in Japan before his honorable discharge in August 1946.
Midwest beginnings
Carlson grew up in Jewell County in north-central Kansas. He graduated from high school in 1943, but he was only 17 and couldn't register for the draft until he was 18.
Two days after he graduated, Carlson left his home at 4:30 a.m. and headed to Texas. He was hired for the summer.
"We started cutting wheat and we cut 7,000 acres of wheat that summer," Carlson said. "We ended up in Montana about 14 miles south of Saskatchewan."
At the end of the summer, he returned home. Soon after, Carlson and three friends tried to enlist into the U.S. Navy before they were 18.
They went to a Navy recruiting station and lied about their age. Then were sent to Kansas City, where they signed up and took a physical examination. Their final check was with a senior officer. He caught their birth dates.
"That was the first time I ever saw anyone turn purple," Carlson said. "He was so mad. He started hollering, screaming and cussing.
"He lined us up against he wall and lectured us for about 30 minutes," he said. "Then he called a seaman, who was on guard duty, to go with us back to our hotel, get our luggage, put us on the bus and make sure we went back home."
In January 1945, Carlson turned 18. He had no decision but to enlist in the military. So he chose the Army.
"It was the law," Carlson said. "You had two choices ― little or none. When you turned 18, you registered for the draft. When I turned 18, I had been out of high school a year."
Carlson took basic training at Fort Riley. He was later sent to Fort Knox in Kentucky and Fort Meade in Maryland before being sent to New York City. He was about to be deployed to Europe when plans were changed.
He was sent back to Fort Meade, then transferred to San Francisco before being shipped out to Leyte, an island in the Philippines. He spent months there before going to Japan.
Carlson was one of 58 members that graduated in his basic training class at Fort Riley. All but 10 of those soldiers were sent to Europe. Sixty-seven years later, he's not sure any of his Fort Riley training mates are still alive.
"I doubt seriously if any of the rest of them are still alive today," Carlson said. "I am one of the few WWII vets left in the area."
After his discharger, Carlson returned to Kansas and moved to Baldwin City, where his mom and siblings lived. They moved from their home in Jewell County to be closer to relatives who lived in Baldwin City.
"When I was discharged, I had a roll of silk in my duffle bag," Carlson said. "It was for my sister's wedding dress. She was going to get married in the first part of September. It was silk that you couldn't buy here in the United States. It was a fantastically, beautiful, white silk dress she wore on her wedding day."
When he returned home, his mother was sick. He began taking care of his young siblings at home.
"She was ill at the time," Carlson said. "I didn't know it until I got here. She was in the hospital and I had a little brother and sister. Somebody had to take care of them. I finished raising them through high school."
In addition to taking care of his family, Carlson began managing the hardware store in Baldwin City when he was 21. It was a serious responsibility.
Now, 65 years later, Carlson remains in Baldwin City. He has four children and nearly a dozen grandchildren and great-grandchildren. He will be attending the Veterans Day luncheon Friday at Baldwin Elementary School Intermediate Center.
"We always celebrate it to reminisce about old times," Carlson said. "We always have a luncheon down at the American Legion, and this year we will be going out to the Intermediate Center."