Turnovers help Wildcats defeat rival Ravens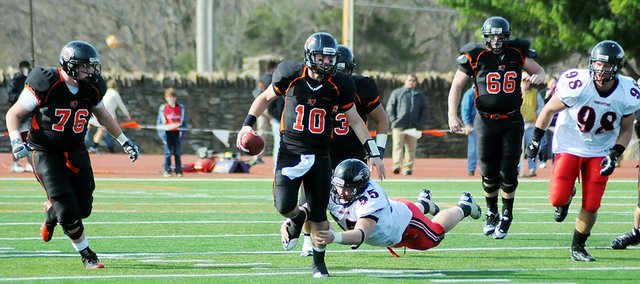 Senior defensive back Madison Morris' interception with 1:20 left sealed No. 25 Baker University's 10-7 victory over No. 9 Benedictine College on Saturday at Liston Stadium, keeping the Wildcats' NAIA football playoff hopes alive.
"He threw the ball right to me and I got lucky and caught it," Morris said. "I didn't do anything special. He threw it right to me."
Baker coach Mike Grossner was excited following Saturday's victory.
"This was a big game," Grossner said. "It was senior day. We played hard and battled some adversity. That's a great win for our young football team."
Saturday marked the sixth-straight win over the rival Ravens. Morris was one of 10 seniors honored before the contest.
"This feels great," Morris said. "Six years in a row. They came in here No. 9 and we knocked them off. It feels great."
Earlier in the fourth quarter, senior Robert Woodall intercepted a pass in the end zone to stall another Ravens' drive.
The Wildcats improved to 6-3 overall and 5-3 in the Heart of America Athletic Conference to guarantee their fifth consecutive winning season. Benedictine dipped to 8-2 overall and 6-2 in the conference, falling to Baker for the sixth consecutive year.
"We lead the country in turnover margin and I think they are fifth," Grossner said. "That played out today. We won that war and we won the game."
Baker's lone touchdown came in the second quarter when junior Kyle Bolton recovered a blocked punt in the end zone. With a stiff crosswind, freshman Andrew Kimrey kicked a 31-yard field goal as time expired at the end of the first half to extend Baker's lead to 10-0.
"There was an opportunity to get up 17," Grossner said. "I thought it was terrible call on our sideline. That's a big call in a big game, because now the momentum would be all in our favor. We didn't put the score in right there and then they made a big play."
Benedictine's lone score came with 2:13 left in the third quarter when Bill Noonan connected with Jordan Jackson on a 77-yard touchdown pass after Jackson shed a Wildcat defender near midfield. Noonan completed 16 of 34 passes for 298 yards with three interceptions. Sophomore linebacker Emmerson Clarke had the other Wildcat pick.
"We thought it might be a low-scoring game," Grossner said. "Through the years, they've been a tough defense as far as not breaking. Our defense has been, too. It played out that way."
Baker sophomore quarterback Jake Morse completed 14 of 28 passes for 150 yards and an interception. Senior John Babb was Baker's top rusher, gaining 67 yards on 22 carries.
Defensively, senior linebacker Ryder Werts had 12 tackles to lead Baker. Moses Kato and Tyler Lueckenhoff had nine apiece to lead the Ravens.
Wildcat senior punter Garrett Chumley had eight punts for 38.6 yards, including a booming 61-yarder that pinned Benedictine deep in the Ravens' territory.
The Wildcats will close the regular season on Saturday, Nov. 12, at Graceland. Kickoff is 2 p.m. in Lamoni, Iowa.
"We're now a good football team," Grossner said. "We've beaten two top 10 football teams and we've played No. 5 to the finish. Hopefully, the polls help us out a bit and we sneak in the back door.
"Regardless, this has been a nice finish for a young team," he said. "I hope we get some love in the polls. If we don't, we should be a top 15 or 20 type team."