De Soto graduate sinks game-winning three for
BU

women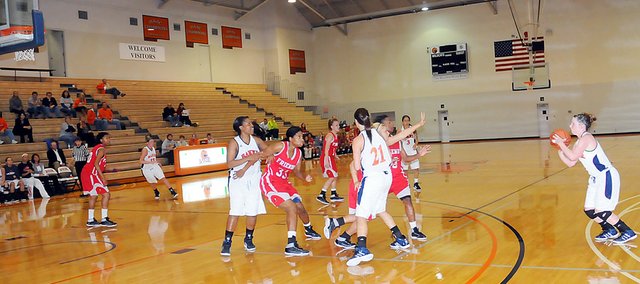 Trailing by 11 points with three minutes in regulation didn't mean anything to the young Baker Wildcats women's basketball team as they grabbed their first win of the season over Friends University Tuesday evening.
"Obviously for us, it feels a lot better to be 1-3 and not 0-4," coach Ben Lister said. "This is a big week for us. We have three three games and we feel like we can win at least two of them. Our kids have shown fight in the second half all season, but we have to figure out how to play better all game."
With three seconds remaining in regulation, freshman Shelbi Petty took two dribbles and fired a three-pointer to lift Baker to a 56-55 victory over the Falcons.
"This is very exciting," Petty said. "Our team needed this win tonight. Hopefully it will give us a boost into the rest of the season. We just need to come out and play hard both halves."
Petty and her coach both admitted the final play wasn't executed like it was drawn up during the timeout.
"I didn't go the way we planned," Petty said. "I was supposed to hit Avery, but it wasn't open. I heard the crowd chanting the time, so I prayed to God it would go in and I'm thankful it."
Although it didn't work as expected, Lister was still thrilled with the result and he felt confident with Petty taking the last shot.
"Coaches will always say it was drawn up that way," he said. "Shelby was supposed to turn the corner and kick it back out for a shot, but it wasn't there. She took a shot that we know she's capable of making."
Heading into the break, the Wildcats trailed 31-22. They still trailed with 4:53 remaining in regulation, 52-37. The Wildcats managed to rally though as timely turnovers by the Falcons and hot shooting by the Wildcats got Baker back into the game.
"My feeling at that point is if we could cut it to five or six points with three minutes to play, we'd be OK," Lister said. "When you get in that situation, the other team gets tight. We did a good job of getting a couple of quick buckets in that stretch and put enough pressure on them that they started getting uncomfortable. Then we took over from there."
Senior Rae Lynne Stewart led the way offensively for Baker with 11 points and eight rebounds. Freshman Haleigh Tenpenny was the only other Wildcat in double figures with 10 points and three rebounds.
Shelbi Petty's gritty play was the story though as she finished the contest with four steals and seven points.
"We need to continue to build," Lister said. "We have to find a way to play consistent for 40 minutes. We have enough ability, but we need to bring more energy early in the game."
Abbey Fawcet led the way for Friends with 13 points. Sarah Munds was the only other Falcon in double figures with 12 points and eight rebounds.
"Our best player had a rough night," Lister said. "She was not herself tonight, but we had some younger players step up and make some big plays for us, which is very encouraging."
Baker (1-3) finished the contest 21-for-52 from the field (40 percent) and 6-for-20 (30 percent) from beyond the arc.
The Wildcats return to action Friday against Park University at the Ottawa University Classic.