Baker men begin home stand with victory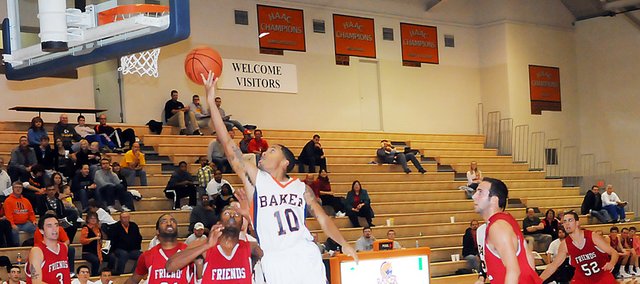 The Baker University men's basketball team is off to its best start in five years after defeating Friends University 76-65 Tuesday evening.
Baker played its first home game of the season on Tuesday and came away with its third victory of the season.
"It's good and we had a good student crowd," coach Brett Ballard said. "You always want to protect your home court. I'm happy about that for sure."
Baker (3-0) never trailed in the contest as junior Jordan Honore led the way offensively with 23 points and five assists, while shooting 9-for-17 from the field.
"We played well in stretches tonight," Ballard said. "I think we have to learn to play well every possession, especially late in the game. We have to work on late-game situations with the lead. I think it comes down to guarding without fouling and giving our opponent free throws."
Jack Shortell recorded a double-double with 13 points and 13 rebounds and Corey Anderson added 10 points. The Wildcats finished the contest 30-for-62 (48 percent) from the field and 5-for-16 (31 percent) from beyond the arc.
Friends University (1-3) was led by Reggie Britton, as he netted 23 points while shooting 9-for-17 from the field.
One aspect of the game that upset Ballard was the number of fouls. The two teams combined for 50 personal fouls during the contest.
"Early in the year, [officials] are going to call it tight," Ballard said. "We have to learn to play without fouling. It was a problem last year and it's a bit of a problem this year. We can play aggressive, but learn to play without fouling. I thought we had a chance to put them away a couple times, but never really could bury them. That's frustrating. We have to learn from that, but I'm still happy with the win against a good team."
However, he is happy with his players effort, especially in rebounding on the offensive and defensive sides of the court.
"I like our energy on the glass," Ballard said. "Our big guys really get after it and rebound the ball. That was the difference in the game tonight. That's definitely a strong point for us."
Baker returns to action on their home floor at 7 p.m. Friday against the University of St. Mary.
"We feel good about being 3-0, but we have a lot of work to do," Ballard said. "We have the bigger picture in mind. We have to keep improving day by day and hopefully we can keep reeling them off."