BESIC

celebrates standard of excellence awards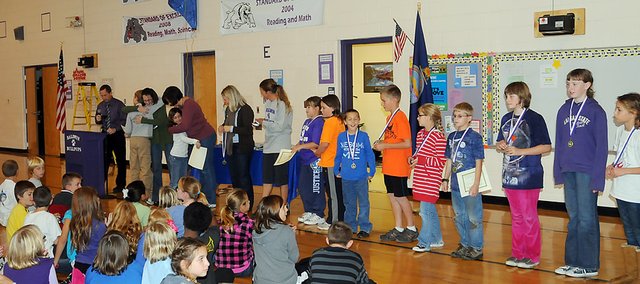 Dan Wallsmith made USD 348 history on Friday afternoon.
Wallsmith unveiled a banner, which recognized students from all three elementary schools that took the Kansas State Assessment exams during the 2010-2011 school year. The Baldwin Elementary School Intermediate Center principal and his staff honored the students for earning the Standard of Excellence on last year's exams.
"Each year they seem to enjoy it," Wallsmith said. "This was the first year we unveiled it. Usually, we just hang it up and they can see it during their time in the gym. The reason I waited is because it was a combination of the other schools on it. I thought it might make it more exciting. Plus, it's good motivation. They know if they want another one of these, here is what you have to do to make it happen again."
This year is the first that all elementary students in the district are attending schools in Baldwin City. Marion Springs and Vinland elementary schools were closed at the end of the 2010-2011 school year.
"Marion Springs and Vinland both had ceremonies at the end of the year for this," Wallsmith said. "It was unofficial. They knew they had it, but it is announced until October. We wanted to make sure we included them, because it would be hard to have it for our kids, but not include them."
A pair of BESIC students pulled the ropes to unveil the new banner in the gymnasium. However, the unveiling didn't go as planned or as practiced. One side of the plastic covering wouldn't come down, so it dangled and left half the banner from being viewed.
Although he wished it would have worked like he practiced, Wallsmith joked about it later.
"We tucked it in too far when we hung it back up," he said. "It was disappointing."
All students who took the state assessments received a medal at the assembly. Students scoring in the exemplary range received certificates for each test they reached that goal on.
BESIC students used to receive Bulldog pins when Tom Mundinger was principal. They would receive the head one year and the body the next. However, Wallsmith said he wasn't able to find those when he took over two years ago.
"A lot of the students wore their medals for the rest of the day," Wallsmith said. "Some broke because they pulled on them too hard. They enjoyed them the rest of the day."