Seniors overcome adversity to win state championship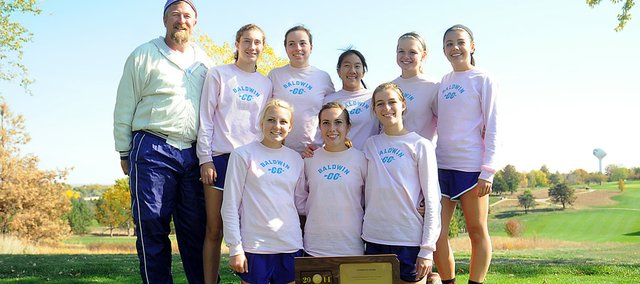 Another October has came and gone and Baldwin High School won another state cross country team championship.
Year after year, the Bulldogs make state titles look easy to obtain. With the exception of 2006, the BHS program has won at least one Class 4A state championship every year since 1998.
The boys program won eight straight from 1998-2005, but the past decade has seen a the girls program surge. The girls team has won eight of the last 10 titles, including Saturday's fifth-consecutive championship.
"We kept the dynasty going," senior Elizabeth Sigvaldson said. "It's exciting."
Sigvaldson became the second BHS girls to be on four state-winning varsity squads. She joined Heather Karlin, BHS 2011 graduate, on the list of four-time winners.
"It was exciting," Sigvaldson said. "It's cool to join her in winning four state titles."
Fellow seniors Abi Hartzell and Carol Whaley were on the BHS team all four years, but they didn't run at state every year. This was Hartzell's first year, after she was alternate a pair of years. Whaley ran at state her final three years.
While the trio of seniors have made winning look easy, it's been a challenge for each girl. They've all three overcome obstacles and adversity during their career, yet they were able to finish on top.
"When you go through four years of high school, you're going to have ups and downs," Spielman said. "There are very few that are really fortunate to be on their A game every year. They've all battled things, but it's great reward to walk of the course as a champion that last time."
Overcoming health issues
The most recent adversity nearly kept Sigvaldson from running her senior season. During track last spring, she became ill and was in the hospital for days. She missed several weeks during the track season, but attempted to run at the end of the season. However, her conditioning lacked and she was unable to run at the state meet.
After her track season ended, she halted all running. It was doctor's orders.
"I wasn't still sick anymore, but they told me I couldn't run anymore until the figured out what was wrong with my heart," Sigvaldson said. "I was not allowed to run for a couple of months."
Sigvaldson was cleared to begin running in mid-July. Many of her teammates had been training for nearly a month before she could even start. The first couple of weeks were slow and she found herself out of shape, while her peers were logging miles before the season started in mid-August.
She found herself in unfamiliar territory ― on the junior varsity team ― at the first meet. This was someone who finished seventh overall at the state meet in 2009 and 2010.
Not only did she run on the JV team, but she was the Bulldogs' third runner on the JV team at the Anderson County Invitational. She moved up to second on JV at the next meet, but her times were still not up to par with her expectations for her senior campaign.
"It was rough," Sigvaldson said. "I ran my worst times ever in high school at the beginning of the season. It was hard to look at those times."
BHS coach Mike Spielman knew Sigvaldson had a lot to overcome. Besides conditioning, she had to compete against arguably the Bulldogs' deepest roster in school history.
"You know she's going to give it everything she has to make it back," Spielman said. "You realize there are a lot of girls on the team. So besides overcoming the physical part of it all, she has to beat the other girls on the team. She also had to battle the mental part of it and realizing it's not going to happen overnight."
As the season progressed, Sigvaldson slowly crept her way up to varsity and into the Bulldogs' top five. She credited her teammates for assistance during the rough times this fall.
"It was very difficult," Sigvaldson said. "There were moments where I wasn't sure if I'd make it to state. My teammates helped a lot. They really helped me keep up my spirits and even get through practices where I was struggling. I was scared a little bit. Eventually, I realized I really had to work for it, and it was worth it."
A former teammate, Karlin, was also beneficial to Sigvaldson's success. Karlin went through a medical episode her junior track season and senior cross country season, before returning to the varsity team last fall.
"She sent me a couple of letters, and she talked to me," Sigvaldson said. "She was the best person for me to talk to, because she went through something similar. She had to work just as hard to get up on varsity last year. It definitely helped me a lot."
One final shot at state
Sigvaldson's teammates were helpful, but they were also trying to overcome adversity during their final season. Hartzell just wanted to run at the state meet for the first time in her career.
Hartzell ran varsity during her first three years, but never competed at state. As a freshman, she qualified with the team, but a stress fracture in her leg sidelined her at the state meet.
She competed on varsity several meets as a sophomore, but found herself as the eighth runner at league. Last year, she was the ninth BHS runner at league, which meant she was once again an alternate for the state meet.
"Part of it was she would work so hard that she would end up hurt near the end of the year," Spielman said. "Finally, all of that time she put in really paid off for her this year."
Hartzell was determined to finish her career by running at the state meet. She logged her best summer of training and entered the season in the best shape of high school. She maintained a spot in the middle of the Bulldogs' lineup all season.
"She came into the season in great shape," Spielman said. "She was also able to stay healthy, and you could tell she was going to run well at state."
Hartzell realized her goals Saturday. She competed at her first state meet and ended her career with a team championship.
"This was my first time to ever run state" Hartzell said. "It was surreal, because I've always watched everyone else run, but now I was running. It was really sad. I was mostly sad the entire race."
Redemption from 2010
Whaley was also hoping for a solid state race after a disappointing one a year ago. She finished 38th in 2010 after placing 17th in 2009. Whaley struggled at the end of the 2010 season, but still managed to remain on varsity and be a part of the state team.
"Carol didn't have a great state meet a year ago," Spielman said. "She just felt tired the last couple of meets last year. It was nice for her to come back and medal this year with her best state finish."
As a freshman, Whaley ran on the JV team. She never came close to cracking the top seven to make varsity. It wasn't until a JV track meet that following spring when Whaley began turning heads.
Her times on the track began dropping and she ran on the state 3,200-meter team that won gold. Her success spilled over into the fall, and she became part of the state-title cross country team.
"She got better and better every year," Spielman said. "She's one of those that has lots of running ability. When she figures it out, she's going to be really good. We saw part of it this year in cross country."
Now Whaley, Hartzell and Sigvaldson can brag they were a part of four state championship teams. They overcame the odds and finished their careers with gold.
"After Heather Karlin was able to do it, that's what each of the girls aim for now," Spielman said. "They want to be four-time state champions during their four years. These seniors can now say that while they were in high school, the team was state champions all four years."