Hartzell leads
BHS

boys at state meet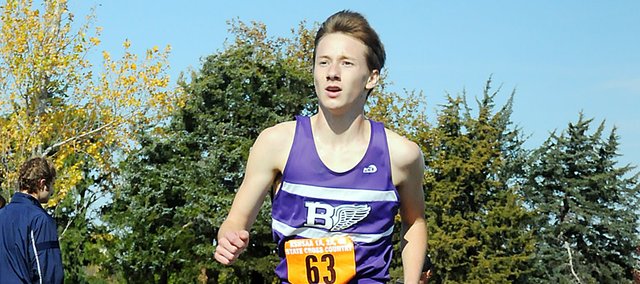 WAMEGO ― Ethan Hartzell got back on course here Saturday after fighting through the two previous races.
The Baldwin High School sophomore finished runner-up at the Frontier League meet and fourth at the Class 4A regional meet. However, he admitted he felt tired and wasn't pleased with his performances.
Hartzell returned to his normal diet last week and made sure to rest up before the 4A state race. It worked as he finished runner-up in the race, improving four spots from a year ago.
"It was pretty cool to get second," Hartzell said. "It's a great finish to my year. I'm pretty happen."
Hartzell finished second to De Soto's Angel Vasquez. Hartzell finished the 5-kilometer race in a time of 16:44.13. He was 14 seconds behind Vasquez, but four seconds ahead of the third-place finisher.
"When you're a sophomore and you get second at state, that's a great meet," coach Mike Spielman said. "He lost to a really good kid. Angel Vasquez won quite a few meets this year."
Spielman and Hartzell discussed race strategy and the BHS sophomore executed it Saturday. He let a couple dozen runners go out with Vasquez during the first mile before making his move.
Hartzell moved up quickly once he hit the second mile. Many of the lead runners began slowing down as Vasquez built his lead.
"He moved up quickly and he really took advantage of the guys that went out too hard," Spielman said. "They had no response for him at all. When he went by, they weren't able to challenge him. By the mile and a half, there wasn't any question that Ethan was going to be in the top two. He had distanced himself from the rest of the runners."
While Hartzell did gain on Vasquez during the second mile, he was unable to get within 10 seconds of him before the home stretch. He was still pleased with his race and finish.
"I was happy with my race," Hartzell said. "I wanted to go out pretty easy and not with Angel. I think it really helped me, because I've been going out hard lately."
Hartzell's finish led the Bulldogs to a fifth-place team finish. BHS scored 140 points as a team. Wamego won the meet with 54 points, while Hugoton and De Soto placed second and third with 112 and 114 points. Andale was fourth as it scored 119.
"I was really happy with how the boys ran," Spielman said. "We had a lot of unknowns. We had several guys that hadn't ben there before and Brian was running hurt. We went in and ran really well. It was a great thing to see."
This year marked the first time Baldwin didn't finish in the top four since it failed to qualify as a team in 1995. BHS finished fourth in 2009.
Senior Tosh Mihesuah was Baldwin's second runner. He earned his first-ever state medal with a 20th-place finish. He was the last medalist as the top 20 medal at state. Mihesuah finished in a time of 17:34.24.
"Tosh had a great race," Spielman said. "I know it wasn't his best time, but he ran smart and earned his first state medal."
Brian Wright was Baldwin's other senior. He battled an injured foot and calf muscle Saturday, but managed to finish his final race. He finished 67th in the race.
Wright was Baldwin's second runner for most of the season before his injury. He was happy to be able to finish his last high school race.
"After three weeks off, it was tough to get back out there," Wright said. "It was fun to get out there with my teammates. I'm glad I did it."
Freshman Joe Pierce, junior Colton Horne, junior Tucker Clark and senior Cory Stephens were all participating at the state meet for the first time. Pierce was Baldwin's third runner as he finished 39th, while Horne was the fourth runner in 63rd place. Clark (80) and Stephens (89) rounded out the lineup.
"Joe was moving up as fast as Ethan was, "Spielman said. "He was moving up and looked aggressive the whole time. He did a great job for his first state meet.
"It was good for those four to have their first meet and to do as well as they did," he said. "It was really good to see. It's going to give us a chance to improve next year with those young guys."
While the Bulldogs weren't disappointed with a fifth-place team finish, their coach knows its a goal to improve upon that next year.
"It's nice place to be this year," Spielman said. "It's also a nice place to start next year. We have to keep getting new kids out and the ones that are our can keep improving."