BHS

boys' soccer defeated in state quarterfinals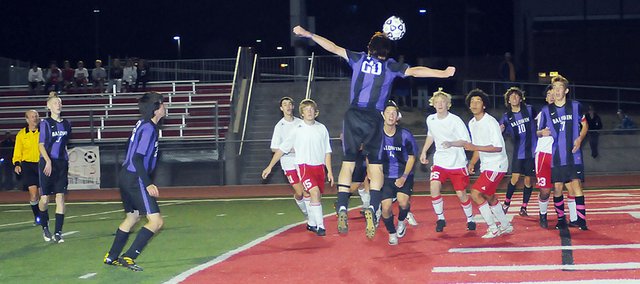 ROSE HILL ― The Baldwin High School boys' soccer season ended here Monday night in the state quarterfinals.
Baldwin played its first-ever game in the state playoffs on Monday night. The Bulldogs were defeated by last year's state runner-up, the Rose Hill Rockets. Rose Hill beat the Bulldogs 3-0.
"I'm proud of these guys for their first time at state," coach Mark Joslyn said. "They did well against the No. 1 seeded team.
"This game was much closer than the score suggests," he said. "They got a very controversial PK in the first 20 minutes. That really hurt us. Then they got a goal right before half on a throw in and I'm not sure who's head that hit. It was just one of those bang-bang plays."
Rose Hill scored 15 minutes into the game on a controversial penalty kick. The game remained 1-0 until the Rockets scored again on a throw in, which was headed into the net with 19 seconds left in the half.
"Sometimes those things will never go in," Joslyn said of the throw-in score. "You can do it 100 times and it will never go in for you."
Baldwin tried to overcome the two-goal deficit and out-shot Rose Hill in the game. Baldwin had many shots that sailed just over the net or outside the goal. Baldwin put the pressure on Rose Hill in the second half.
"We out shot them like we have every time," Joslyn said. "I think we out shot them nine to three if you don't count the PK or throw in. For the first 20 minutes, they were countering us. We had the ball in our half and we were doing quite well.
"We had chances to score," he said. "We had about 10 free kicks and many of those came close to going in, but just didn't. Everything looked good in that regard."
BHS pressed for a goal in the second half and came close several times. However, in an effort to score, the Bulldogs moved defenders up the field. Rose Hill took advantage on one play and got past the back line, scoring its last goal.
"The last goal was on me," Joslyn said. "With 10 minutes left, I pulled up two defenders trying to score. They attacked right where we were weak late in the game."
The Bulldogs finished their season 14-4-1. It was the first time since the program began in 2005 that the Bulldogs have advanced to the state quarterfinals.