Baker alumnus returns home for book signing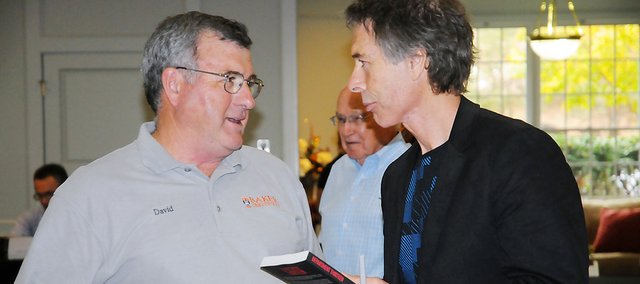 After battling cancer, moving to Australia and being put on a Russian KGB watchlist, James Houston Turner returned to his roots for a visit last month.
The Baldwin City native was here for the first time in 10 years. He came back for a book signing at his alma mater Baker University.
"In one word – change," Turner said of Baldwin City. "It's changed so much. It's good change, but some old houses and trees that used to be around aren't here anymore. It's those things that I still remember."
A former classmate and BHS football player enjoyed visiting with Houston while he was on the Baker campus. David Reed, who lives outside of Baldwin City and works at Baker, is three years younger than Houston, but he remembers Turner from high school.
"It was neat to see him and talk to him," said Reed, who was a 1968 BHS graduate. "He seemed genuinely interested in seeing some people he knew from when he was a kid. He still seems like he is the same old guy."
Turner, a Baldwin High School and Baker graduate, was in Baldwin City publicizing his latest book, "Department Thirteen." The book is about a retired KGB colonel who knows Department Thirteen, which was the assassination and sabotage unit of the KGB, existed but he's working to forget his former life. Now the main character is living in Australia with his wife when he is hunted by the KGB.
The story is loosely based on events of Turner's former life. He was a smuggler behind the Iron Curtain and has been on a KGB watchlist. He organize secret meetings with informants, located hidden mountain bunkers and investigated forgotten tunnels in Central Europe during his days as a smuggler.
"My smuggling activities behind the Iron Curtain landed me in trouble with the KGB," Turner said. "There was a real KGB guy in Moscow, who leaked word out that I was on their list. I was actually followed while I was in San Diego. So that inspired the idea of a good guy in the KGB who helped us. I don't know what his name was, but Department 13 is the actual assassination unit of the KGB."
Growing up in Baldwin City is what gave Turner is ideas of the world and his direction of his life. He admitted he didn't know what he wanted to do after college, but his childhood made him want to see te world.
"I had an idealistic childhood of adventure, imagination and curiosity," Turner said. "That enabled me to give me the life that I know write about. It gave me the hunger for the world.
"I try to bring readers to where I've traveled and where I've been," he said. "My stories also include my experiences, like my cancer and what it's like to have a brush with death. I want my readers to cringe with me, but always know there will be a happy ending, because my life has been a happy ending."
His battle with cancer also inspired his writing and his career of being an author. It was actually the fight with cancer that helped him find his path after trying many careers and living all over the world.
"I was one of those kids growing up in Baldwin, that because of my education, I had a lot of interests, but I really lacked discipline," Turner said. "When the going got tough, I would just move on. That's probably why I had so many majors at Baker. I just didn't know where I fit in. It wasn't until I got my cancer that the line was drawn in the sand. I couldn't move on from that. I had to stand and fight."
In 1990, Turner was living in San Diego when he was diagnosed with cancer. It was misdiagnosed for a long time, but it was in his wisdom tooth on the right side of his mouth.
"People thought my cancer was from chewing tobacco, smoking or drinking, but I didn't do any of those, Turner said. "No one knows why I got it, but I did."
After the diagnosis, there was one big problem. Turner just lost his health insurance after switching jobs.
"The doctors found that out and nor did I have the $200,000 needed for an operation," Turner said. "He told me, 'sorry buddy, I can't help you.' Then he walked out of the examination room. My wife and I waited, but he never came back. We cried all the way back home."
Turner's wife called he sister, who worked in the medical field in Australia. She asked her sister if there was anything they could do and her sister told them to come to Australia. They did just that.
"When I got off of the plane, I had weeks to live," Turner said. "It cost us $17,000 and we had to pay it up front. They gave me 18 months to live and that was in 1991. This is my 20th anniversary."
The cyst was the size of his fist, so the surgery involved major reconstruction of his face. He recalled it during his trip last month.
"They cut me and opened my face up like a book," Turner said. "They cut my jaw and my jugular vein out on the right side of my face. They made a jaw out of hip bone, took skin from my arm and took muscles from my arm to build my mouth. I can't take my pulse on my right wrist anymore, but I can take it on my chin."
After the surgery and his recovery, Turner applied for a job several years ago. He was rejected for the sales job, because he was told he was too ugly to work with the public. That setback inspired Turner to title his book tour, "The Too Ugly Tour."
"It was a real kick in the gut at the time," Turner said. "Yet, it was a blessing in disguise, because it motivated me to stick with my writing. So I decided to dedicate my book tour to that moment."
"When life kicks you in the gut and says you're too ugly, fat, young, poor, far away or whatever, don't believe that stuff," Turner said. "Dust yourself off and don't be defeated by what happens. It took me too long to do that. 'm 64 now. Most of my classmates are retired. I'm just beginning."
Last year, Turner returned to San Diego to say thank you. He went to see the doctor that diagnosed his cancer.
"He saved my life," Turner said. "I brought him a copy of my book. I had to say thanks. They don't often get survivors walking into their office. I wanted to go back and say thanks after 20 years."