Bulldogs win both team state track titles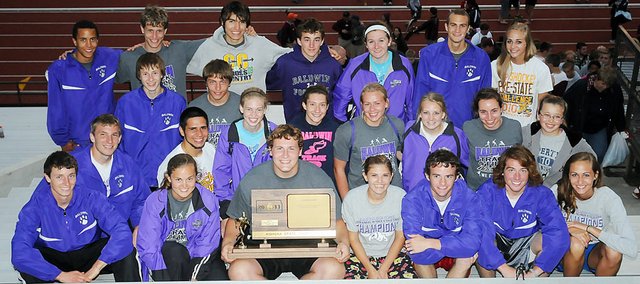 Wichita — Baldwin High track and field teams left here with a pair of tied championships Saturday night.
Both BHS teams trailed heading into the final event, but finished first and third, which earned them a tie for the first-place trophy.
"We battled through so much this year with injuries and other things, but these kids worked so hard and they believed they could do it," BHS boys coach Mike Spielman said. "They didn't get down about things and they kept getting better and better every meet. Then we won league, regional and state."
The BHS girls won the 1,600-meter relay to finish the meet with its only state championship event. Colby placed sixth in the race, which forced a tie atop the Class 4A team standings.
On the boys' side, Louisburg led Baldwin by six points heading into the 1,600 relay. Baldwin finished third and tied their Frontier League foes.
The BHS boys' title was its first since 2002. The Baldwin girls have now won back-to-back state track championships.
"It was exciting how we won this year," BHS girls coach Ted Zuzzio said. "It was a total team effort. We had to win the mile relay. Everyone stepped up and competed in all of their events. We had a perfect season. I'm so proud of the girls. They did Baldwin proud."
Baldwin's girls' 1,600 relay ran 4:04.96 to win the race. The relay members were Elena Watson, Lyndsey Lober, Kaitlyn Barnes and Morgan Lober.
The BHS boys' 1,600 relay's time was 3:26.37. The Bulldogs on the relay were Carson Barnes, Tosh Mihesuah, Brian Wright and Asher Hannon.
The Bulldogs combined to medal in 12 other events Saturday, which included two field events and two relays.