North Sixth Street Project details discussed at joint meeting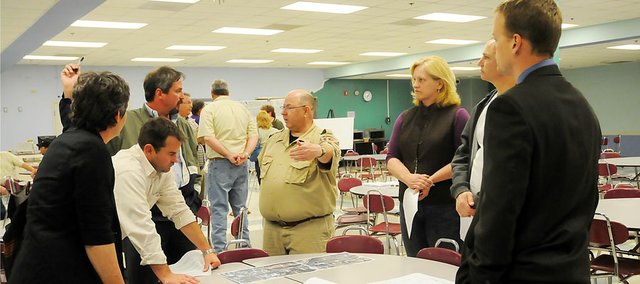 Although construction on the North Sixth Street Project won't begin until 2012, Baldwin City and Douglas County officials discussed details about it at a joint meeting Tuesday evening.
The Baldwin City Council, Mayor Ken Wagner and city staff members met with Keith Browning, Douglas County public works director, and engineers from Bartlett and West. The committee talked about the scope, cost and effects of the project that will add sidewalks, curbing, guttering and a third lane to Douglas County Road 1055 from U.S. Highway 56 to Douglas County Road 12.
"We had a lot of questions from the public about this at our last meeting, and I wasn't ready for that," Wagner said Tuesday. "I thought we needed representative from the city, county and the engineers down here to answer some questions and talk about this project."
A handful of patrons brought concerns about the project to the city council at the May 16 meeting. Two of the primary concerns were the addition of a turning lane and closure of the road during construction. Those issues were discussed Tuesday.
Brian Austin of Bartlett and West said there were four reasons for the added turn lane were traffic safety, future growth along the road, cost savings of fro adding the lane now and preserving the landscaping along the road.
Austin and Bill Winegar, Baldwin City public works director, discussed the traffic studies completed on 1055 and Highway 56. The stretch of 1055 to be improved handles about 4,200 vehicles per day, while Highway 56, which is three lanes in the city, has about 4,800 vehicles per day.
"There is a lot of traffic on this road," Winegar said. "So there is a concern for safety, and we need to pay attention to that."
When asked if the current traffic volume warranted a turn lane, Austin said that was a judgment call.
"If traffic didn't increase at all, we would still recommend a three-lane section through Firetree," Austin said. "If traffic would stay the same, I would say the capacity north of that would be at an acceptable level for a two-lane section. You wouldn't experience excessive delays waiting for someone to make a left turn."
Adding a third lane increases the cost of the project by $225,000. However, if it was added in five to 10 years, the cost would jump to $850,000, and county officials said they were unsure if the county could share in the cost of the project in five to 10 years.
Right now, the majority of the cost is being split 50-50 between the city and county. The city will be paying for sidewalks on both sides of the road, which is policy for an arterial road. The Kansas Department of Transportation is paying for the portion at the intersection of Highway 56 and 1055.
"The road is an arterial road, and it carries a significant amount of traffic between Baldwin and Lawrence," Browning said. "Not only that, but Baldwin and K-10. A lot of people from Baldwin use that road to get to K-10. The character of the road is different than it is south of Baldwin, which we fixed several years ago."
The engineers and Browning answered many of the questions from the council, mayor and patrons at the meeting. He said 1055 would be closed for the project, which will be done in two phases with southern improvements completed first.
Austin said businesses would have access during construction.
"That's why we have public meetings like this to let them know that businesses are going to be open," Austin said. "Temporary access roads will be there for the businesses."
While 1055 is closed, the main detour to Lawrence will be Highway 56. However, Browning and others agreed that Baldwin City residents may choose to use East 1750 Road, which runs east of Baldwin High School and heads north to Signal Oak.
"We know that local residents will use 1750," Browning said. "We will address the dust on that road. Any significant changes to that road will cost too much. We will probably put up temporary speed limit signs on that road."
The project should be completed before Highway 56 is closed for bridge repair in 2013, Winegar said.
"We are pushing the engineers to roll with this project and keep moving so we can get this project started and completed before the state closes down 56 Highway," he said. "This project is projected to go into the spring of 2013. That is around the same time the state is expected to close down 56 Highway. It's important that we finish this project before that happens."