Newly opened
USD

348 Performing Arts Center used as storm shelter Saturday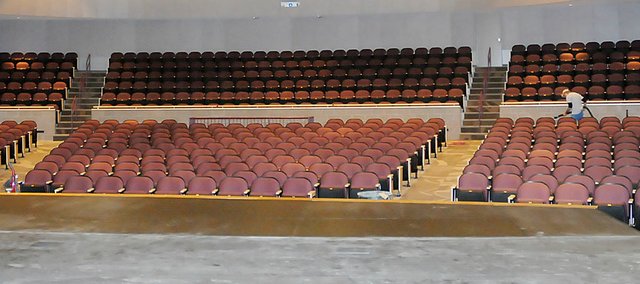 Thankfully, it made it through the night untested, but 65 area residents found safety from Saturday's storm in USD 348's newest building.
As tornado sirens sounded in Baldwin City around 10 p.m. Saturday, local residents headed to the USD 348 Performing Arts Center, located between Baldwin High School and Baldwin Junior High School. USD 348 Superintendent Paul Dorathy and Baldwin City Fire Department Chief Allen Craig opened the doors and 65 residents stayed inside the PAC for two hours.
"I got a call from dispatching saying the sirens were going off, and people wanted to know if we were going to open any tornado shelters," Craig said. "I called Paul and asked him if we could open the new performing arts center and he said 'yes.'
"It was a little quick to try and plan this action. We didn't have any plans for this yet, because the school district just took possession of it. It worked out well. The word of mouth helped let people know we were opening it Saturday night."
Those seeking the safety of the PAC found it to be a quiet refuge, Dorathy said.
"You can't hear much inside there," Dorathy said. "Since the walls are so thick, you don't hear a lot of the rain or noise from the outside while you're inside. That building is built with extra-heavy walls, but it's also built acoustically so you're not going to hear much from the outside."
Saturday was the first time the building has been used as a tornado shelter. Dorathy said the new facility will be open to the public again if tornado sirens are sounded in Baldwin City. The building has a design capacity of 1,800 people.
"I would guess that any time the sirens go off and there is an immediate danger of some kind, the building will be unlocked and open to the public," Dorathy said. "What we want people to do is park in the high school parking lot to the north of the junior high and come in the new north entrance to the auditorium."
A Federal Emergency Management Agency grant allowed construction of the new Performing Arts Center almost entirely as a safe room capable of withstanding an EF-5 tornado. The school district's 25-percent match of $1.1 million will turn the 16,100-square foot building into a $4.5 million safe room. Voters had approved $3.1 million for the auditorium during November's bond issue election.