Lumberyard Arts Center show presents contrasting styles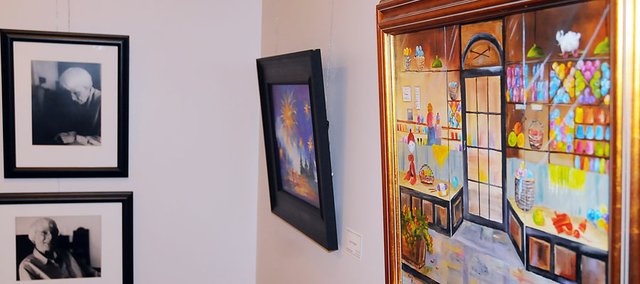 Two contrasting artistic styles from two local artists will join together Friday in the Lumberyard Arts Center's newest exhibit "Black and White and Bright All Over."
The exhibit will feature black and white photographs from T.J. Harrison and oil paintings from Mary Brungardt. LAC Gallery Coordinator Sandy Cardens approached both artists about doing the show, with the dual exhibit being the intention from the beginning.
"We thought either one of them alone might be too much, too much black and white or too much of the color," Cardens said.
Another contrast in the show is Harrison's non-traditional portrait photographs being of "familiar faces" and Brungardt's paintings of "familiar places." The people in Harrison's photographs are six elderly women who are in the same coffee group as Harrison. Brungardt's paintings are not only of places around Kansas, but also include paintings of Lake Tahoe and the American River in California.
"I just thought it was a very interesting concept and it also pushed me to get everything together for the show," Harrison said. "I've been meaning to do it for a while, and when this opportunity arose, I thought 'ok, now is the time.'"
Cardens first spoke to the artists about doing the exhibit four or five months ago, and said preparing for an exhibit is both time consuming and nerve-racking.
"You have to have everything framed and you have to have it look good and all your little notes and things have to be spelled right," Cardens said. "It's a process."
While many contrasts can be found in Harrison and Brungardt's art, the two artists do share common ground in using traditional styles. Brungardt is known for using intense colors, but said she uses color in a very traditional way in her paintings.
"I am a very color-oriented person," Brungardt said. "Color is the first thing I notice about anything."
Harrison is traditional in a different technical sense, as she still takes photos using film and a darkroom. Harrison thinking there still are, and always will be, people who prefer film to digital photography. However, she notes shooting with film is becoming more difficult.
"It is getting tricky," Harrison said. "And in fact, I was looking for some paper, to reorder some paper for this particular show and realized that the company doesn't make that kind of paper anymore."
The exhibit opening reception will take place from 6-8 p.m. Friday at the Lumberyard Arts Center and the exhibit will be on display through July 2.
"I've always been an advocate of the Lumberyard Arts Center and we always envisioned something sort of like the Lawrence Art Center, just on a smaller scale, and I think that is finally becoming a reality," Harrison said.