BHS

girls shatter 1,600 relay record; Bulldogs aim for state title repeat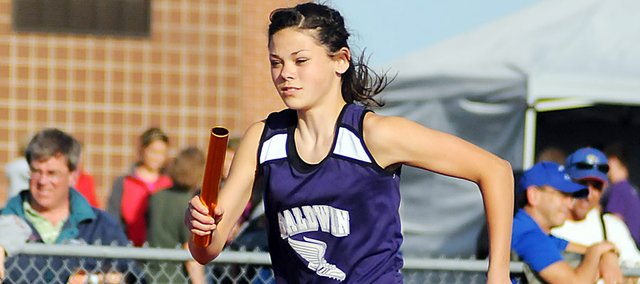 Basehor — Ted Zuzzio left here about 10:30 p.m. Friday disappointed with the team standings.
He thought his Baldwin High School girls' track and field team lost its first meet of the 2010 season. After the final race, De Soto was announced as the Class 4A regional champion and BHS was second.
"It was one of the more confusing track meets our coaches and team have had to deal with in some time," coach Zuzzio said. "We had to deal with the confusing of the timing system to the assignment of lanes to the announcing of wrong scores. We also didn't get times correct."
However, after all of the events were checked and the results finalized, the team scores were much different. Baldwin won the regional title with 107.5 points. Kansas City Piper finished runner-up with 75, while De Soto placed fifth with 52 points.
"After all of that, we're happy we won," Zuzzio said. "We left with a bad taste in our mouth and we made it all the way to Vinland before we found out that we had won."
Before the Bulldogs left disappointed, they were excited about another school record relay. The Bulldogs won the final race of the night. They won the 1,600-meter relay in a time of 4:01.62, which set a new school record by two seconds. BHS ran 4:03.77 at the state meet a year ago.
"The meet ended on a high, high note by winning the mile relay in 4:01," Zuzzio said. "It was another school record and an incredible run by the four of them. They all four ran their best times of the year."
Running on the relay were senior Lyndsey Lober, sophomore Elena Watson, sophomore Kaitlyn Barnes and freshman Morgan Lober. The Bulldogs' time was the fastest at any 4A regional by 10 seconds.
"It's pretty sweet," Lyndsey said. "It's definitely what I needed today and for this season. It has to be the third or fourth time that I've been on the board to break that record. It feels amazing to break it with my sister."
L. Lober suffered a devastating defeat earlier in the day. She was the favorite to win the 100-meter hurdles Friday, but she fell late in her preliminary race. She finished but not fast enough to qualify for finals. Her younger sister tried to pick her sister back up before running the final race for her older sibling.
"I was trying my hardest," Morgan said. "I knew she was really upset, so I had to finish the race to help her out. We all had a really good prayer before the race to help us.
"She was very upset after her fall and she's not into running as much as she used to be because she's almost done, but she says it helps a lot that I am there with her," she said. "It's a lot more fun when it's sister-bonding time. Plus it's a lot more fun when we are fast."
The Bulldogs won three other events Friday — 400-meter dash, javelin and 3,200-meter relay. The 3,200 relay team cruised to victory Friday to start the track events with an easy victory. BHS ran 10:02.81 and won by 16 seconds. The relay members were freshman Hannah Hutton, junior Carol Whaley, Barnes and M. Lober.
"I probably ran faster than I needed to run," Morgan said of her 3,200 relay leg. "Coach told me I could have run slower like Kaitlyn after my race."
M. Lober also won the 400 dash later in the day. She improved her school record time as she ran 58.91 to win by more than two seconds.
"Morgan had a great day," Zuzzio said. "All of her times were special. We wanted her to take it easy in the 4x800 and she still runs 2:25."
Baldwin's other winner was sophomore Monica Howard. She won the javelin with a mark of 113 feet, 0.5 inches. Fellow sophomore Jessie Katzer finished third in the event, throwing 108-2.
Howard also qualified for state in the high jump. She placed third in the event by clearing 5-0. Her older sister, senior Allison Howard, finished runner-up in the discus. She threw 113-1 into the wind Friday.
"In the field events, we are sending three girls," Zuzzio said. "The Howard sisters performed well and Jessie made it out in the javelin."
The Bulldogs will be sending qualifiers in the 800-meter run and both hurdle races, along with the 400-meter relay team. Senior Ramie Burkhart finished second in the 100-meter and 300-meter hurdles. She ran 16.31 in the 100 hurdles and 47.4 in the 300 hurdles. M. Howard placed fourth in the 100 hurdles and fifth in the 300 hurdles.
In the 800 run, Barnes finished runner-up to De Soto's Lacey Erickson. Barnes ran 2:22.02, while Whaley finished fourth in a time of 2:28.01 to also qualify for the state meet.
"Carol Whaley ran her season-best time in the 800," Zuzzio said. "She's now in the hunt to medal at state."
Baldwin's 400 relay team of L. Lober, Burkhart, Watson and senior Samantha Meisenheimer placed fourth. Their relay time was 51.07.
The Bulldogs will be participating at the state meet Friday afternoon and Saturday in Wichita. They return as the defending 4A state champions and hope to repeat this spring.
"It would be nice if we could put together enough points to win it again," Zuzzio said. "It's possible. We've performed so well all year. It's going to be fun."