BESPC

earns glowing reviews after first year
Students, staff enjoy opening year at Baldwin Elementary School Primary Center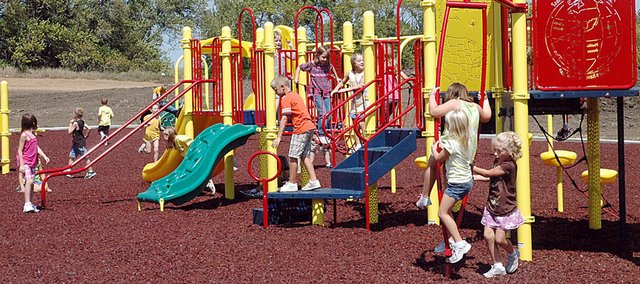 While teachers at the Baldwin Elementary School Primary Center packed up their classrooms in May 2010 to move to a new building, the transition did not go as smoothly as planned.
The first month of the 2010-2011 school year was spent in the old primary center. Everything was then moved over to the new building the weekend before Labor Day, causing a stressful transition period.
"The beginning of the year was hard because in May we thought it was going to be open, so … everything was packed," BESPC Principal Deb Ehling-Gwin said. "And so then for the beginning of the year, we had to unpack, set up classrooms over there, then pack and unpack."
Tuesday marked the conclusion of the school year and the first year in the new primary center. Kindergarten teacher Debbie Wallace has now taught in the new and old primary center buildings and is glad to be in the new building, despite the stressful start.
"It's really nice to be in a new facility and out of what we had been in with the mold problems and plumbing and heating and air and all the other issues that we had at the other building," Wallace said.
Leigh Anne Bathke was not only on a committee to help design the look of the new building, but also has a son who attends the primary center. Bathke said she is humble and grateful to the community for passing the bond to build the new school.
"That's the most important component of this whole construction project was getting that money approved, and I cannot emphasize the importance of that enough," Bathke said.
Wallace said the parent feedback of the design of the new building has been nothing but positive.
"They're just very pleased with what they see, what the kids come home and share," Wallace said. "I haven't heard any negatives from my parents this year."
Bathke said the opinion of the parents is important, but the opinion of the children is what matters, and the children have also loved the new building.
Another transitional period will take place for the teachers coming to the primary center from Marion Springs Elementary School and Vinland Elementary School next fall. However, for the rest of the staff, the transition into the second year of the building does not look to be as difficult as the previous year.
"For those of us that were here this year, we get to enjoy it and just think about the beginning of school rather than moving and setting up and the beginning of school," Ehling-Gwin said.