Residents happy to share neighborhood with Baker Greek houses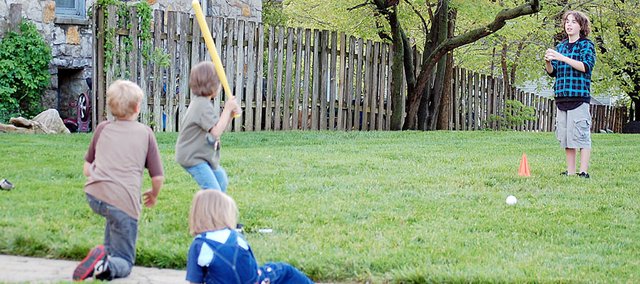 With up to 40 people living next door, cars consistently lining the street and parties sometimes on the weekends, next door to a greek house may not seem the best place to live in the neighborhood.
However, some Baldwin City residents, like Diane Meyer, will tell a different story. For the past four years Meyer has lived on Eighth Street, near four sororities, and she says she enjoys sharing the street with the women.
"I would love to invite them over, but I never know quite how to interact with them," Meyer said.
She was surprised the night of serenades the first year she lived in the house. Serenades is a Greek event twice a year, during homecoming and Greek week, when the fraternities walk to each sorority house, introduce new pledges and sing and socialize in the front yard. The Meyers now are used to hearing the chanting and singing every fall and spring.
"It just looks like so much fun," she said.
Zeta Tau Alpha President Rachel Relich says some neighbors may not agree.
"In the fall, we had a problem with serenades so we had to move them inside, and that was difficult," Felich said.
If the sorority gets any complaints, Felich said, it is usually about noise, especially on nights like serenades and after preference night during formal recruitment in the fall.
Baker University's Panhellenic Council and Interfraternity Council do not have a set of guidelines on how Greek organization members should interact with neighbors.
"We don't have any written policies, however we highly encourage (those in Greek life) to be respectful of their neighbors," said Brett Bruner, Baker's director of student life.
Despite the lack of rules pertaining to neighbors of Greek houses, most Baker fraternities and sororities do their best to get along with their neighbors, members say.
Blake Stanwood, Delta Tau Delta fraternity president, said this year the members listened to the requests of neighbors before school started to help the rest of the year go smoothly.
"At the beginning of the year we had a cookout where we invited our neighbors over to meet them and to note any kinds of concerns they have so we start off the year on a good terms," Stanwood said.
Although the police are sometimes called because cars line the streets when a party gets big, Baldwin City resident Corine Stout says she doesn't mind her college neighbors.
"I mean it's a little inconvenient if they have a party because the streets are very narrow," Stout said, "but I don't go out at night anyways, so it's not a big deal."
Stout has lived across the street from the Delta Tau Delta house for 22 years. She said the fraternity members do a good job of trying to accommodate neighbors' requests and don't often bother her.
"They've woken me up a time or two over the years, but nothing real big has happened," Stout said.
Stanwood said the fraternity works to keep a good relationship with its neighbors and to be respectful of the property surrounding the house.
"Whenever we do have parties, we clean up trash the next day," Stanwood said, "especially when it is in (the neighbors') yards. That is usually their main concern."
Down the street from Delta Tau Delta and behind the Sigma Phi Epsilon fraternity house lives Loretta Robson. She said she doesn't interact with her neighborhood fraternities and they don't give her any trouble.
"If we meet in the alley, we'll say 'hi,' but for the most part they do their thing and I do mine," Robson said.
Bert and Delma Hitchcock have lived across from the Kappa Sigma fraternity house since 1989 and have many times been grateful to have the men as neighbors.
"I think they've been very helpful at times when needed," Bert said. "They've been really nice furniture movers."
The Hitchcocks aren't close with the men currently living at the Kappa Sigma house, however about 10 years ago the members came to the Hitchcocks' house on a regular basis. The men helped the family with anything from moving furniture to raking leaves, and many times just stopped by the house to visit.
The Hitchcocks have given the Kappa Sigma house old furniture, too.
"Overall, it's been fun to see what's going on. We've enjoyed them," Delma said.
Despite the extra noise on the weekends and the lack of parking near almost every house, the Greeks' neighbors seem to enjoy having students next door.
"I don't think we could get any luckier with our neighbors," Meyer said.
— Meagan Thomas is a Baker University journalism student and a staff writer for the Baker Orange newspaper.