Freshman Lober sets 400 school record; Bulldogs win league crown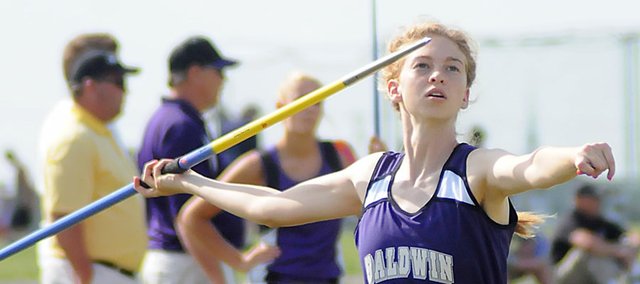 Eudora — Morgan Lober was quick to follow her older sister in setting a Baldwin High School girls' track and field record.
Lober, a BHS freshman, broke the 400-meter dash record here last Thursday. That occurred just six days after senior Lyndsey Lober tied the 100-meter hurdles school record.
Both sisters also helped the BHS 1,600-meter relay team beat the Frontier League meet record in the last race of the meet. The BHS girls' team scored 192 points to beat runner-up Paola by 39 points.
"We've been the bridesmaids for the last three seasons, but we not this year," Zuzzio said. "It's pretty gratifying with the effort, times and distances that we turned in last night."
Baldwin finished runner-up to Gardner-Edgerton the previous three years. Gardner left the league after last year to compete against other Class 5A schools in the Kansas City metro area.
"It was exciting," senior Samantha Meisenheimer said. "I think we did fantastic. There are only seven schools, but the fact that we beat them by 20 or 30 points is awesome."
In the 400, Lober won the race in a time of 58.95. Her time beat Rachel Miles' school record of 58.96, which was set at the 2004 state meet. Lober's time also broke Heather Garcia's league meet record of 59.2, which was set in 2007.
"We had a lot of personal bests," Zuzzio said. "We had one school record fall. She even came back with a faster time in the mile relay."
The BHS girls' 1,600 relay ran its fastest time of the year by four seconds, 4:03.21, and won the race by eight seconds. Gardner-Edgerton previously held the league meet record at 4:04.33, which was set in 2007. Running the relay for Baldwin were sophomore sElena Watson and Kaitlyn Barnes, as well as the Lober sisters.
"Our mile relay ran a faster time than our winning time at state last year," Zuzzio said. "We ran 4:04 in the finals."
Baldwin also won the 3,200-meter relay last Thursday. The BHS girls easily won the 3,200 relay in a time of 10:02.16, as they won by 14 seconds. Relay members were Carol Whaley, Hannah Hutton, M. Lober and Barnes.
The Bulldogs won three more individual events and placed high in several others. Sophomore Monica Howard threw a personal-best toss of 119-feet, 3 inches to win the javelin. Sophomore Jessie Katzer finished runner-up with her best throw ever of 113-9.
In the discus, senior Allison Howard also had a personal-best mark. She threw 126-2 and finished second.
"Allison Howard had a personal best in the discus," Zuzzio said. "Monica Howard and Jessie Katzer had personal bests in the javelin. Jessie also had a personal best in the shot put."
On the track, L. Lober won the 100 hurdles. She ran 15.66 as she cruised to victory. Fellow senior Ramie Burkhart finished runner-up in the race, running 16.29 seconds. M. Howard placed fifth in the race.
Burkhart came back and won the 300-meter hurdles later in the day. Her time of 47.67 nearly won by two seconds. Senior Myranda Behrens finished second, while M. Howard placed fourth.
"On the track, we just lined up and ran and ran well," Zuzzio said. "We sort of swept the hurdles. We went 1-2 in the 100 hurdles and 300 hurdles."
Baldwin's 400-meter relay team finished runner-up to Paola, who set a new league meet record with its time of 50.21. BHS ran 51.84. On the relay were L. Lober, Behrens, Burkhart and Meisenheimer.
Meisenheimer placed second in the 100- and 200-meter dashes last week. She ran 12.73 in the 100 dash and 27.64 in the 200 dash. Sophomore Alicia Lytch finished fourth in the 200.
"I thought I ran really good," Meisenheimer said. "I got second in all of my events. I got second in the 200, which I haven't run since freshman year. I ran a really good time in the 200."
Barnes finished second in the 800-meter run to De Soto's Lacey Erickson, who set a new league record of 2:19.29. Barnes ran 2:20.92. Sophomore Sienna Durr placed second in the 3,200-meter run and fourth in the 1,600-meter run. Freshmen Hannah Hutton and Ashton Temple finished fifth and seventh in the 1,600.
"It was the quickest league meet we've ever had," Zuzzio said. "It was over by 8:20 and it could have been earlier. There wasn't much rest time in between races."
BHS will head to Basehor-Linwood High for the Class 4A regional meet Friday. The field events begin at 3 p.m. with prelims at 5 p.m. and finals at 6:30 p.m.
"We'll fine tune this week," Zuzzio said. "We'll go to Basehor and try to get as many kids as we can out to the state meet in Wichita. It's going to be fun."