Co-worker says Dingman will be hard to replace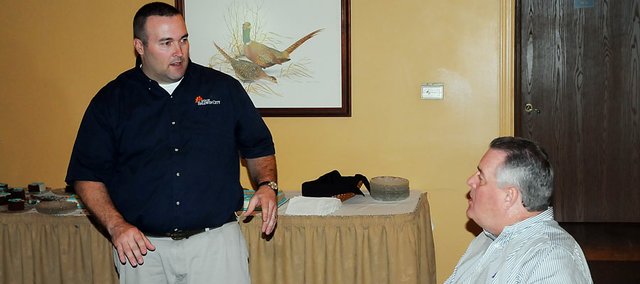 Tina Rakes began working for the city of Baldwin City eight years ago, shortly before Jeff Dingman started as city administrator.
As Rakes, the city codes official puts it, the two grew into learning the community together, seeing how the city wants to operate and grow. Rakes has worked closely with Dingman for the past eight years and believes it will be difficult to replace him.
"I've worked in two jurisdictions, one for 17 years and now Baldwin, and I have not worked for a city manager that is so great to work with as Jeff," Rakes said.
Rakes was in attendance at Dingman's farewell reception from 5 to 7 p.m. Tuesday at The Lodge. The Baldwin City Economic Development Corp. organized the reception, and BCEDC President Dave Hill presented Dingman with a plaque of recognition, as Dingman finishes his time in Baldwin City before taking a job in Fort Smith, Ark.
"Obviously none of us want to see him go, but in the same token, we're all supportive of anybody bettering themselves in life in general, so we wish him well there," Rakes said.
Although Dingman said he was coming to the realization would not see some projects he worked on completed, he was proud of what he'd done over the past eight years in Baldwin City.
"I've done some things to help make it better since I've been here, you know, and there's a lot of other things that are in the works and could have happened and still might happen," Dingman said. "There's a lot of things that are ongoing that we need to see happen."
Rakes worked closely with Dingman on projects throughout the years and said Dingman's administrative style in his job was "hard to beat."
"I really appreciate his open-mindedness. You know, we all come to Jeff with ideas," Rakes said. "He's very open to allowing us to explore different things in our respective positions."
Dingman said the process of finding his successor began with the advertising of the open city administrator position.
With much of his family still in the area, Dingman said he would be continuing to keep up to date with what goes on in Baldwin City.
"Somebody asked me what I'll miss the most about working for Baldwin City, and it's probably the variety," Dingman said. "You never know what hat you're going to have to wear that day."